Cute Backpacks For Back To School
School is just around the corner, and for all those students out there that means back to school shopping, specifically cute backpacks! Now, a few classes provide students with a list of what they need to buy. However, there has never been a rule about the type of backpack you bring to school.
As long as it doesn't have any inappropriate symbols on it, you can use anything you want. The styles will differ depending on if you attend college or high school but, all of the options can be used by any type of student. 
1. Superhero Backpack
A cute backpack choice has to be a superhero backpack since comic book superheroes have become one of the hottest trends today. Since the debut of Iron Man in 2008, the Marvel Cinematic Universe has created almost two dozen box office hits in the span of ten years. Not only have they become one of the biggest industries to work in, but they have inspiring millions of children around the world to be strong, independent and resilient individuals.
This cute backpack choice is perfect if you are interested in comic books or movies. Another perfect feature for superhero backpacks is that most of them are gender-neutral. The choice of backpack solely depends on which superhero is your favorite. 
Get the look:
2. Miniature Faux Leather Backpack
If you attend college/university, a cute backpack option is to buy a small faux leather backpack. They are perfect for storing your laptop/tablet with a small notebook if you are commuting to school for one class. They are also perfect for high school students to take with them if they are attending a school field trip.
The bags are small enough they won't feel heavy on your back, but big enough to fit all of your essentials for that day. Since they are quite small, the backpacks can also be used as a purse. As you can see, there are many uses for this miniature faux leather backpack. How you will use it is up to you. 
Get the look: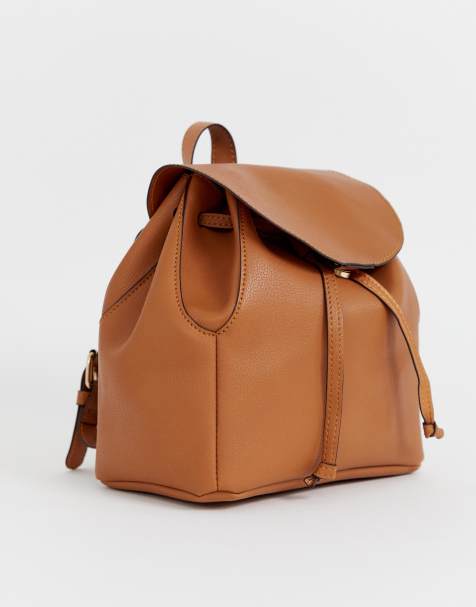 3. Messenger Bag
An all-time cute backpack is the messenger bag. It is also known as the laptop bag because they usually are used for carrying around big laptops or tablets. However, the bags can become extremely heavy if you put too much into it.  The messenger bags are made to fit a laptop/tablet, a notebook/big textbook, and your pencil case.
Anything else will make the bag too heavy to carry or prevent it from closing. For this reason, it is a good choice if you are commuting to college for one or two classes. It can also be used for field trips as well. 
4. Pop Culture Backpack
Popular cute backpack options also include pop culture backpacks. With so many fan-favorite shows out there, the entertainment industry created pop culture themed backpacks. This way we can represent our love for Stranger Things, Disney movies and so much more with us when we go to school.
Depending on where you buy them, you can also get matching lunch bags and pencil cases with it as well. Also, they are gender-neutral backpacks. The only way to decide which one you want to use it to decipher which pop culture show you want to represent. 
Get the look:
There are so many cute backpacks in retail stores today. Which will you choose to help carry your books this fall? Comment down below your favorite backpack look.