19 Cute and Cozy Oversized Sweater Outfits
I'm not sure who made oversized sweaters fashionable, but I have to say thank you. This laid-back look is perfect for just about anything – skiing, class, Netflix and chill, dates, and even holiday parties are all appropriate places to wear your cozy companion. Not only are oversized sweaters comfortable, but they last forever as a staple in your closet! Needless to say, you need some cute and cozy oversized sweater outfits in your life.
1)  Off The Shoulder
Carry that off the shoulder style into the winter with this off the shoulder sweater look. Large and cozy, and looks great matched with some cute ankle boots!
Get The Look:
  
2) The Layered Look
Layer your large oversized sweater outfit with a cute denim shirt underneath. Not only does it provide added warmth, but added style as well!
Get The Look:
   
3) Day To Night
Instantly transform this daytime cozy sweater outfit into a nighttime look by adding ankle booties and dropping the sunnies!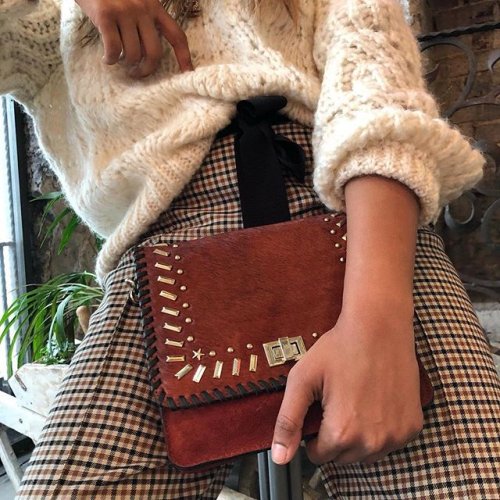 4) A chunky fuzzy cardigan
Perfect for freezing winter days, you can wear it with jeans and flat boots or a cute pair of booties.

Get The Look: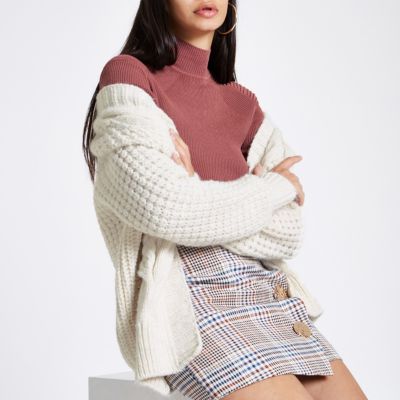 5) Lace up
Lace up sweaters are so trendy this season. Pair them with boyfriend jeans or a leather skirt.
Get The Look:
6) Bralette Peep
Give a v-neck oversized sweater a try and let that bralette strap show! Super trendy and cute!

Get The Look:

7) Big & Baggy
The crew neck baggy sweater will definitely keep you cozy while looking effortlessly trendy and fashionable! A perfect wear for an everyday style!
Get The Look:

8) Dress Them Up
If you're feeling like your oversized sweater outfit is a bit bland, try adding a cute collared shirt and some accessories to your look! Your sweater outfit will go from being boring to chic in minutes!
Get The Look:
   
9) Pop Of Color
Make your look stand out by mixing and matching colors. This baby pink sweater and black knot hats are adorable together.
Get The Look: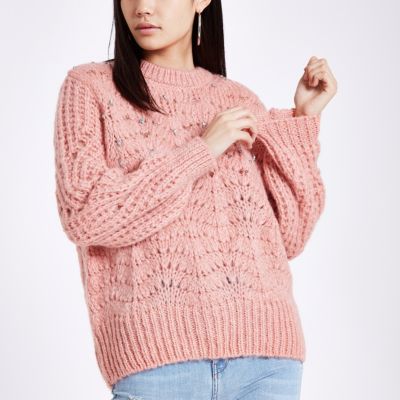 10) The Turtleneck
Nothing beats a turtleneck sweater on the frigid days when you genuinely do not want one part of your body exposed to the freezing air. This sweater is super cute and can be worn casually, or dressed up!
Get The Look:
11) Cozy And Warm
Nothing says cozy more than an oversized sweater and some sneakers!
Get The Look:
   
12) Knit To Perfection
Knit sweaters are trendy, warm, and practical. This navy one is super cute for the fall and winter and would look good on anyone!

Get The Look:

13) Extra Big
When it comes to sweaters, I truly feel it really is the bigger the better. This grey oversized turtleneck sweater is super cute!
See Also
Get The Look:
14) Pretty And Pink
This pink color is a favorite of mine, and looks great with this knit oversized sweater outfit! Pair it with some cute frayed jeans and you will have a perfect fall look!
Get The Look:

15) Mustard Yellow
Mustard yellow is the perfect color for fall and can of course be carried into the winter months. What's better then a big mustard yellow sweater? The answer is nothing, not even actual mustard.
Get The Look:
   
16) Vintage Vibes
If you're into the mom jean look, add an oversized vintage red sweater to your style! Super cute and two combinations pair well together!

Get The Look:
   
17) Skirt And Boots
A black oversized sweater tucked into a skirt with some sock boots is the perfect fall look! Show some leg and enjoy your comfy oversized sweater!
Get The Look:
   
18) Perfectly Tucked
This oversized sweater outfit is to die for. I absolutely love the way the pink looks matched up with the black skirt. A very cute and fun fall look!

Get The Look:
   
19) The Half Tuck
Tuck that large sweater halfway into your pants and walk those streets like you own the place because this oversized sweater outfit is a classic! A knit sweater with added heals looks great for any occasion!
Get The Look:
    
What are some of your favorite oversized sweater outfits? Leave us a comment in the section below!
*This is a sponsored post. All opinions are my own.
Featured Image Source: www.pinterest.com
Haley Lyndes
Just a twenty-something trying to navigate life. Northern Vermont University graduate. Yes, I own Birkenstocks. No, I do not like maple syrup. Hoppin' around New England since 95', currently in MA.