30 Christmas Stocking Stuffers You'll Want This Year
Well folks, it's that time of year again. The Christmas season is just around the corner and I can hardly wait to wrap those fuzzy socks and sub-par DIY projects I try to gift every year. One of my favorite parts of Christmas is the stocking stuffers, because who doesn't love little trinkets of joy? Here are 30 Christmas stocking stuffers you'll actually want to find in your stocking this year – and don't worry, they're all under $30.
For The One Who Loves Anything Beauty Related
1. A Relaxing Face Mask
Sephora comes in clutch this season with this relaxing facemask. When the New Year unfolds and stress starts to rise again, this mask will surely do the trick. Do I predict a spa day in the near future?
2. "Bite" Beauty Set
When you need some mini beauty in your stash, this gift set goes perfectly with any holiday outfit.
3. Marc Jacobs Mini Gift Set
Daisy comes in fun-size packages with this adorable mini-gift set at Sephora. It's a great on-the-go stash for when you need a little extra perfume.
4. Winter Eyeshadow Palette
The perfect holiday look starts with the perfect palette, and this one comes pretty close.

5. NailMoji Nail Polish
Deck out your nails with the cutest emojis with these Nailmoji Nail Polish by ColorClub. They come in a multitude of colors and will surely get the attention of anyone – cue winking emoji.
6. A Lip And Cheek Tinting Stick
This tint stick covers your lips and cheeks with a subtle flush/glow. Can you say efficiency?
For The One Who Loves Quirky Gifts
7. A Quirky Tote
This tote is perfect for carrying anything from your daily essentials to those heavy college textbooks. Fries before guys, foods before dudes.
8. A Quirky Mug
I can never have enough mugs, especially when I see ones that have punny sayings. This mug from Mugable Mugs on Etsy will surely suit your fancy somehow.
9. Taco Socks
Let's just taco 'bout it.
10. Public Toilet Survival Kit
I shouldn't even have to explain this. Public toilets are gross. This kit makes it not-so-gross.
For The One Who Needs Help Relaxing
11. Yummy Bubble Bath
Cue the heart eyes emoji. Philosophy shower gel + bubble bath is my go-to guilty pleasure. Christmas Cookie and Candy Cane are TDF. Pour some of this into your bath and the aroma will calm you instantly…and maybe make you a little hungry too!
12. Harry Potter Coloring Book
Bring out your inner child and wizard with a Harry Potter coloring book. It's like those stress detoxing ones…..only much better. Perfect for calming a mind that's always running.
13. A Bath Bomb
Take advantage of a quiet and single bathroom while on Holiday break with bathbombs – specifically this beautiful one designed to give you the clarity you've been needing.
14. A Relaxing and Inspirational Read
For anyone looking for encouragement in their faith, this book brings out the passion and hope you may need.
For The One Obsessed with Desk Office Supplies
15. Moodycards
Want people to ask how you're doing? Flip to one of the 30 cards and passive aggressively let them know.
16. "Handy" Notes
Leave a note in style. It also makes those persistent notes from Mom less irritating.
17. A Ceramic Pencil Holder
For when those pencils need somewhere adorable to be held.
18. A Cute Pencil Set
For those artsy people out there, you can find the perfect inspiration when using these handcrafted pencils.
19. Desk Pad Calender
There's nothing better than kick starting the New Year off on an organizational foot. Grab this comforting Desk Pad Calendar for all of your stressful needs.
For The Vino Lover
Transport your best holiday spirits with this cute wine bag that we definitely know to be true. Cheers.
21. A Cute Bottle Stopper With Your State
Bringin' a dash of your hometown state to your celebration with these state bottle stoppers.
…And The Coffee Lover
22. Thermal Mug
Nothing's better than a thermal mug that warns off any potential unwanted interactions before you've slugged down your first cup o' Joe for the day.
23. Chewable Coffee
For the coffee lovers on-the-go these chewable cubes are perfect for that caffeine buzz. You don't get the jitteriness of coffee but instead the relaxation and energy of Green Tea. These are a go-to item on my "pls buy me" Christmas stocking stuffers list.
24. Holiday Spoon
Either order one or all of 'em, either way you'll be satisfied with their cute sayings when you're mixing that cream into your coffee.
For The Techie
25. A Charging Bracelet
Never be on low battery again with this portable charging bracelet. One half is the charging cord for your phone, the other plugs into any USB port for easy charging anytime, anywhere.
For The One Who Loves Dainty Room Decor
26. Air Plants
Spray these air plants 2-3 times per week and you've got yourself a green thumb. The cutest pots encase these little guys, so don't be surprised if you want more than one.
27. Glitter Picture Frame
For your Polaroid faves when you have no idea where to hang them, ask for these adorable glitter picture frames. Can I have all of them?
28. Concrete Candle
Who would ever think concrete could look so cute? These little candles are the perfect room decor and come in multiple colors!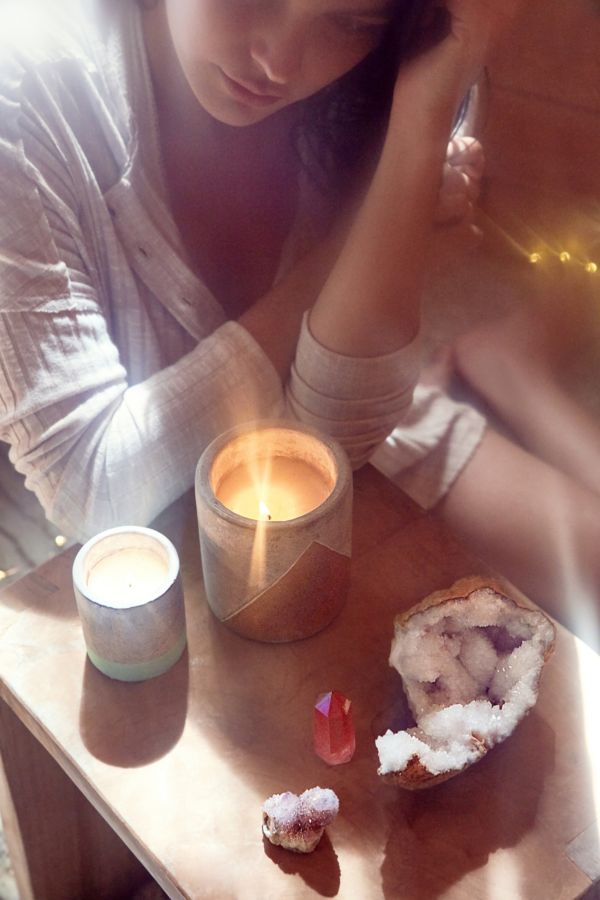 For The One Who Loves Pretty Things
29. A Crystal Soap Rock
This soap is sure to get anyone's attention. It's beautiful AND you get to choose your color. How cool is that? These definitely make more unique Christmas stocking stuffers for anyone who loves pretty things.
30. Raw Gemstone Necklaces
These are some one-of-kind beauties. And you can choose from 5 different colors! Let's hope your mom nails it with the right color, a little hinting wouldn't hurt either.
So whether you're into the little things in life or big presents that spark your interest, some of these Christmas stocking stuffers have to be perfect for you this Christmas. Share this article to your mom, grandma, and especially the Aunt that gets you the same thing every year. You'll thank me later.
Do you have any other ideas for Christmas stocking stuffers? Share in the comments below!

*This is a sponsored post. All opinions are my own.
Featured Image Source: http://www.cnbc.com/
Andrea Cable
Andrea is a freshman at Eastern Mennonite University where she is a dual major in Business Administration and Photography. Her hobbies include making music, running her photography business, laughing, and eating ice cream. She absolutely loves anything that has to do with coffee and blogging and is looking forward to her future articles on srTrends.