20 Perfect Christmas Gifts For Makeup Lovers
The holiday season is a dream come true for makeup lovers: it's time for brands to drop jewel-toned collections and sparkly, festive gift sets. We've rounded up 20 perfect Christmas gifts for makeup lovers they are guaranteed to love. Tis the season to be glam and extra AF, am I right?! Makeup lovers already all have the basics (i.e., shadows, primers, foundations, highlights, lip colors, etc.) so choose some unique and seasonal items they haven't yet gotten their hands on! Here's our curated list of beauty gifts for makeup lovers.
The precision on this beauty sponge is a must-need to create beautiful, clean lines of highlights and contours. With versatility among it's beautiful bright color, this makes for the perfect Christmas gift for makeup lovers.
This Winky Lux set will give you the most kissable lips in the land. The kit features 1 color-changing Flower Balm (with a real flower inside), 1 Glossy Boss Lip Gloss in shade Juicy, and 1 Glimmer Balm in shade Unicorn. We're obsessed with the flower balm! It's one of cutest gifts for makeup lovers you can get this season.
The newest addition to the Urban Decay palette collection, released specially for the holiday season! We're loving these 12 all-new shades ranging from ivory and rose gold to black cherry. Urban Decay palettes are such classics you can't go wrong with this gift.

Every beauty lover needs the right lighting to transform her/his face. This LED touch-screen mirror allows you to control how much light to create a flawless makeup look. You can travel with this mirror or leave it safe at home, either way, it's a must to include in your list of Christmas gifts for makeup lovers.
This K-Beauty find is literally the cutest gift. This cushion blush works like a stamp and leaves little heart all over your cheeks you can then blend in. Stamp once for a natural-looking glow, and twice for a bold pop of color.
Once the transformation is complete, a makeup guru needs impeccable lighting to achieve a flawless selfie. A Christmas gift for a makeup guru needs to include something that makes her/his life easier for capturing their effortless beauty. This self ring light attaches to any mobile device, making capturing a beauty makeup look incredibly easily! This is one of the best Christmas gifts for the makeup lovers in the family!
This isn't technically makeup but who isn't swooning over Glamglow's mud masks. This must-have holiday set features the GRAVITYMUD™ Firming Treatment in gold, chrome, pink, and blue, as well as purple, black, and pink glitter masks, together with a palette, stencils, and a brush for easy application. A gift any makeup lover will obsess over.
A makeup lovers's collection of brushes grows so much that before we know it, we lose track of when we last cleaned all of them. A perfect Christmas gift for a makeup guru includes a silicon pad brush cleaner that fits perfectly in hand to make cleaning brushes super easy!
You know when you're blending away and want to use the same brush for a totally different color without damaging all your hard work? This brush cleaner is meant for in-between uses! This perfect Christmas gift for makeup lovers will allow them to complete an effortless transition of colors with one or two pumps of quick change brush cleaner in between colors.
If you're a makeup enthusiast, you're more than likely a huge fan of Kylie Jenner and her cosmetics line. An appropriate Christmas gift for any beauty guru who's obsessed with Kylie and the Kardashian clan would be one of her makeup bags! They're spacious enough to hold all your beauty essentials without struggling to find what you need. This is one of the best Christmas gifts for makeup lovers!
The most iconic beauty guru in the game has stepped up everyone's lip game for the better: Jeffre3 Star. His velour lip scrubs make for luscious, moisturized lips ready to rock any matte or gloss! They come in a wide variety of edible flavors, perfect to get one or two as a Christmas gift or stocking stuffer for your favorite makeup lover.

Any makeup enthusiast probably lacks counter space in the bedroom or bathroom. A cute brush holder saves room and makes the hassle out of rummaging through a makeup bag for your eyebrow brush so much easier! Marble is a huge trend in 2018, and completely versatile for any room or setting. This brush holder makes for a must on the list of Christmas gifts for your makeup lover.
Want to show the world you love all things beauty? The show stopping phone case is a Christmas gift must for the beauty lover in your life.
See Also
This Christmas gift for makeup lovers is very true in holiday spirit. This advent-type calendar includes a mini-sized product for the first 12 days of Christmas! This gives your beauty-loving recipient a chance to try out new products before committing to the full-sized goods!
Holiday themed palettes make for the most adorable Christmas gifts for the the makeup lovers in your life. We love that this festive collection includes three eye and face palettes and a mascara, all while ringing in the holiday spirit.
These colorful freckles come in rose gold, iridescent, and metallic colors, can be positioned anyway, anywhere, and last 2 to 4 days. A super fun gift or stocking stuffer that you can wear during festival season, or to make your outfit a little more festive!
These 4 delicious shades are inspired by macarons and we are loving the soft shine and and easy to apply texture.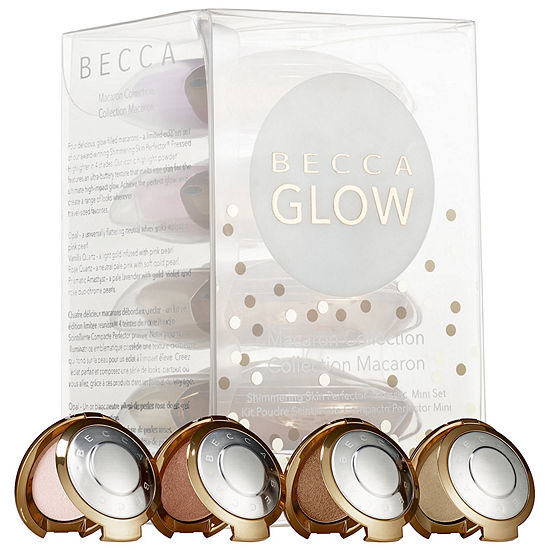 This sequin-clad collector's set from Tarte is the ultimate holiday makeup set. The gold pineapple palette features 25 blendable eyeshadows, a mini face quad, lipstick, mascara and eyeliner. We're in love!
No makeup kit is complete without a glitter pigment to create the perfect cut-crease or halo eye. A pack of four allows you to create neutral, shimmery eye looks, perfect for any holiday party or New Years Eve look. Don't forget these pigments on your list of Christmas gifts for makeup gurus in your life!
Elevate the makeup game with these Christmas gifts for beauty lovers. A girl (or guy) can never have too much makeup! Comment your favorite makeup-inspired gift down below for our fellow beauty enthusiasts to share in!
Featured Image Source: https://ids.uni.edu/makeupforu/2017/11/09/perfect-gifts-girl/