This Chic Table Decor Will Totally Impress Your Guests
Impressing your guests at your next party is easy with some simple accent pieces. Making a beautiful tablescape only requires a few pieces that really compliment each other. You don't have to spend a fortune to get a high class look that will really wow your guests with this chic table decor.
Display your dessert on a beautiful cake stand to make it look even more delicious. You can even add a cake stand to your everyday table decor and top it with a candle or small figurine. You can find single pedestals or tiered stands to round out your tablescape for chic table decor.
Serve your salad course in a beautiful dish that will make your bowl of lettuce look like a million bucks. Alternatively, you can display something like pine cones or artificial fruit to add a tasteful touch to your table.
Random objects can be the perfect piece to complete your table decor. Whether it's an animal figurine or geometric shape, you can easily add a touch of finesse to a simple table. Get creative and don't limit yourself with conventional objects.
Salt and pepper shakers are a great way to turn something functional into an accent piece. Because they are typically so affordable, you can by a set to go with every season. Your guests will love your attention to detail and keen decorating sense.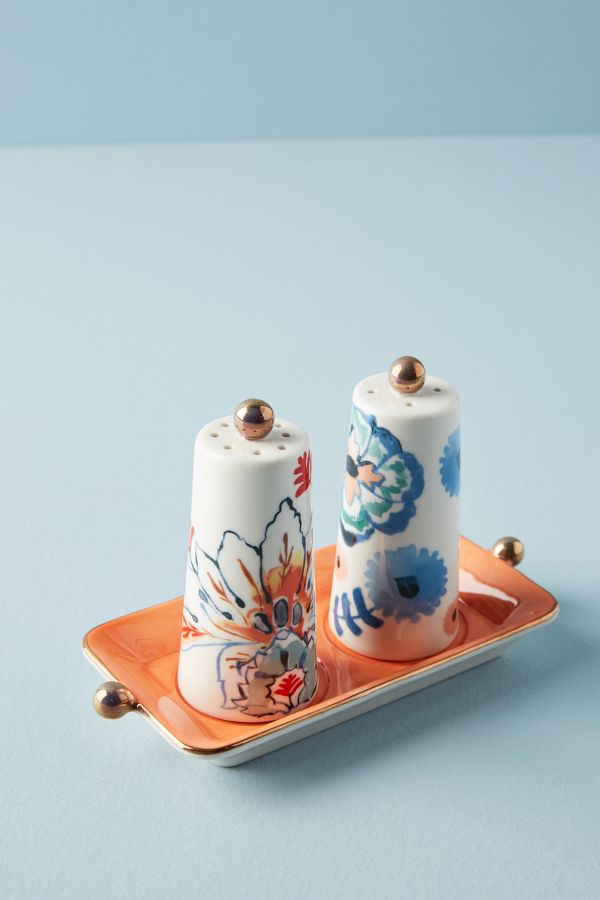 Using a tray to display your table decor is an super easy way to make a polished look. With so many different styles, you can easily change the tray to create a whole other look. A tray helps random odds and ends look more cohesive when displayed on one platform.
Instead of using place mats, put out chargers for your guests to put their plates on. There are so many different colors and patterns that it's easy to find ones that match your decor. Chargers create layers and add an extra sense of flair to your table. Chargers are typically made of durable materials so you don't have to worry about cracking or breaking them.
Flowers are a great way to add color and texture to a tablescape. You can find vases in almost any shape, size or color and in any theme as well. You can use unconventional pieces as vases, such as old milk bottles or mason jars. There's so many cute options out there that are affordable and unique.
See Also
Tea lights are perfect for an intimate dinner party. Use them as a way to add low light and create a serene mood. Tea light holders add a fancy touch to a simple object. The sky is the limit when it comes to tea light holders. Use mason jars, teacups, seashells and many other common household items. Tea light holders are a super affordable way to decorate your table with this chic table decor.
Table runners are a great way to add texture to your table decor. Runners create natural lines and symmetry to create a polished look. Add candles and a flowers and you're good to go. Alternatively, you can display your food in pretty dishes and place them over the table runner. When decorating your table, remember that it's YOUR table. Have the decor reflect your taste and personality. Don't get too caught up in trying to make everything match. Try different pieces and mix styles. Take a step back and find what looks cohesive. After that, your guests will surely be impressed with this chic table decor.
Which of these chic table decor items do you want? Let us know in the comments.
*This is a sponsored post. All opinions are my own.
Featured Image Source: weheartit
marianosrat
Maria is a Houston native beginning her career in digital marketing. She loves baking cupcakes, running and shopping at thrift stores. She is a Gryffinndor, pug mom and Jesus freak.