15 Cheap And Fun Date Ideas Near Ohio State
Dating in college, especially your freshman year can be tough for two simple reasons: money and transportation. Freshman on campus cannot have cars and all college kids are broke, so going on dates can be difficult. Date venues have to be simple and cheap, but still interesting enough to gain the attention of the person you're courting. Here is a list of the top 15 cheap and fun date ideas near Ohio State University.
1. Ice Skating
For all Ohio State students skating at the Ohio State Ice Rink is only $5 with skate rentals at $3. This is super cheap and super fun, and also on campus!
Sloopy's is the diner in the Union at Ohio State University. They are good priced with great options for vegans, gluten sensitive people, and those with allergies. Their meals also count towards dining plans, so it's a great place to eat without actually spending cash/bank account money.
3. Rock Climbing
For the thrill seekers, there is a rock climbing facility on campus called the Tom W. Davis Climbing Center. It is free to all OSU students, and who doesn't love a free date?!
In general the Short North area just south of campus is super cool to explore, but North Market is a great place to get literally any type of food you can imagine, fresh and cheap for your picking. It is a short bus ride on the COTA (which is free to OSU students) away and has great prices.
5. 16-Bit Bar and Arcade
For the gamers, a great date near Ohio State University is the arcade bar called 16-Bit Bar. They are 18+ (no fake ID needed) and have a wide array of games that are pre-payed for. It is just a short bus ride South of campus!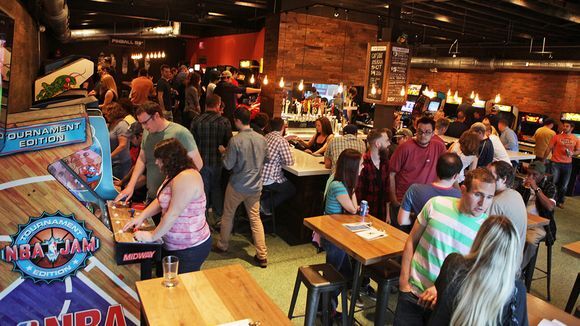 For art enthusiasts, this is a great date option. Even better though, you can get a great student discount if you present your Buck ID. This one is also just a short bus ride away.
The Franklin Park Conservatory is also a short bus ride from campus and has a good student discount! It is a beautiful indoor botanical garden with lots of grounds outside to explore as well. It is super romantic there; just ask the hundreds of couples that get married there every year.
COSI, or the Center Of Science and Industry, is an exciting science museum just south of campus. It is only $8 if you get your tickets from the desk in the Union.
If you prefer dinner and movie dates, you should definitely head to the gateway film center which is located on campus. They have student discounts and show both new and old movies.
10. Goodale Park
When the weather is warmer, a great place to explore and have picnics is Goodale park. It is only a short bus ride from Ohio State University and its free!
Going to see any of the galas, exhibits, or shows at the Wex is a great opportunity to both save money and get dressed up. A date here will surely seem much fancier than it really is. Also, it's on campus!
For the ethnic date night without the high price, hit up Cazuelas. It's moderately priced and has authentic Mexican food. They're located just north of campus; within walking distance.
13. Suzi-Cue
For a fun and cheap night shooting pool, go to Suzi's. They are just east of campus within walking distance and playing game costs around a dollar.
For a chill study date with your SO, go to this awesome cafe just north of campus. They have cheap coffee and snacks, WIFI, and sell unique used books.
Students of Ohio State get $15 tickets to all Blue Jackets games at the Nationwide Arena through the D-tix program. Its a short bus ride from campus and comes with great seats.
What are your favorite date ideas near Ohio State? Share in the comments below!
Featured image source: jacimarie.com