Habiba Abudu
Habiba Abudu is a writer based in Toronto, Ontario. Stay…
This article is not an #ad for York University, rather it is an introspective look as to why I chose to go to York. There are a few main reasons why I chose to go to York University. If you are unsure of what you want to do – don't feel pressured to go to school. Take some time off and really explore what is it that you want to do. It worked out for me but don't conform to societal expectations that you have to rush into school to be considered successful.
1. I didn't know what I wanted to do.
I vividly remember having an anxiety attack during my 12th grade graduation (#bellLetstalk anyone?). The MC announced that I was going to York for a degree in communications but deep down – I was internally thinking of what the next steps were? Where was I going. I longed to be on an idyllic mountain with alpacas.
Choosing a degree on a whim is a great way to appease parents.
2. It's all about the Benjamins (I mean dollars).
Going to a local school, would be significantly cheaper and it wouldn't hurt so much if I was struggling to find a job post-graduation. I was not trying to be a slave to student loans (feel me). There were tons of scholarships that I capitalized on by attending my local university. If you don't want to be a slave to the OSAP machine – stay tuned for a future post, I got your back. 
3. I can't adult today.
Living away from home entailed dare I say it, cooking. Actually having to boil my own rice.  Actually remembering my annual checkups. Figuring out my taxes. Having to braid my own hair. Ain't nobody got time for that. 
Ignorance is bliss and how is that StarBucks for that #basic attire.
4. It's close!
It takes me 25 – 30 minutes to walk to school. I could plan to wake up as late as possible. Going home to a cooked meal,  heating  and my comforter was bliss. My city was really diverse and I am not sure if I could get jerk chicken in the outskirts of Peterborough (really far place, surrounded by bushes). 
5. Bueller, Bueller, Bueller 
Let's face it, I couldn't re-enact Ferris Bueller's day off with a bunch of randoms. Unfortunately, that didn't happen…you know who you are.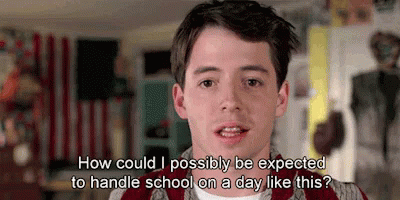 Although my Ferris Bueller Day didn't happen – I believe that one day it will.
Are your reasons the same as the reasons why I chose to go to York University?
 Featured photo source: tumblr.com
Habiba Abudu
Habiba Abudu is a writer based in Toronto, Ontario. Stay tuned for Tickle Me Fancy. You can find her on instagram : therealhabibaabudu, www.habibaabudu.com, www.facebook.com/habibadoesthings