Broaching the subject of how to liven up that hair-do can be tedious but these 10 hair accessories of 2019 are a quick way to go from drab to glam. It's frustrating having to think of how to brighten up your hair without putting it through 300 degrees of curling iron torture, thankfully these hair accessories are as quick and easy as they are visually stimulating and affordable.
We're reclaiming all the accessories we used to live in as children and giving them a grown-up spin!
1. Headbands
Because who doesn't love a Blaire Waldorf moment sans the volatile Chuck Bass relationship. The beauty of the headband is that it's a quick way to elevate a look with minimal to no effort, a real win-win situation for a gal on the go. An extra upgrade of these headbands is that they are made of silky goodness so you won't have to worry about throbbing temples by the end of that day *shudders*.
Copy This Look:
2. Faux Bows
So think bow but all grown up. The beauty of these faux bows is that they are already made for you and all you have to do is slide on the scrunchy and voila you're a lady! Not to mention the fact that you get 10 different bow looks for $16 is an even better reason to give these bad boys a second chance to uplift that ponytail.
Copy This Look:
3. Hair Barrettes
You know them, you love them, you constantly lose them-barrettes. A real throwback to those elementary days when these beauties were essential to keeping those bangs out of your face so you could focus on that one-minute math sheet. Well, they're back and in so many colors and textures, we can't wait to pop one on!
Copy This Look:
4. Statement Barrettes
These barrettes will do all the talking for you. If you want to make an effortless statement, these word barrettes are the ones for you! Imagine letting plebeian's know your glam with one simple clip? Done and done.
Copy This Look:
5. Scrunchies
A real blast from the past and now in even more insanely colorful prints! While they may not have the tightest grip on your ponytail, their soft material will make sure there is minimal to no indention on that luscious mane of yours. Scrunchies are a pain-free way of putting up that hair and if you wrap it around enough times you get that perfect "I Dream of Jeannie" up-do.
Copy This Look:
6. Bright Braids
As if braids didn't make you feel like a glorious warrior princess weaving in that colorful string will bring it to a whole new level. The bright string perfectly in cohesion with your locks will make for an ethereal look.

Copy This Look:

7. Silky Scarves
Who doesn't love silky goodness caressing their locks while making people think your all types of put together? With gorgeous prints, these scarves will take that hair-do up a whole other level. Take that 1950's glam everywhere you go! Plus they are literally pain-free so what's not to love?

8. Upgraded Bobby Pins
These all grown up bobby pins were designed to elevate your look so bobby pin away. With so much elaborate detail it'll be a lot harder to lose these hair accessories, unlike the plain old bobby pins that magically grew legs and disappeared. As far as hair accessories go these pins are the perfect way to bring pizzazz to your hairstyle.
9. Pearl Power
A huge trend when it comes to hair accessories right now is the pearl lady look. These bobby pins and barrettes got a full facelift. Because nothing says lady like the classic elegance of pearls. Soften up any look with these incredibly affordable and chic pearl pieces.
Copy This Look:
10. Hair Comb
While the hair comb is usually in the bridal hair accessories department, with the right touch it can translate over to everyday use. Not only will they hold your hair back, but they'll also give anyone behind you a sophisticated show. You know what they say, hair combs- business in the front and a party in the back.
Copy This Look: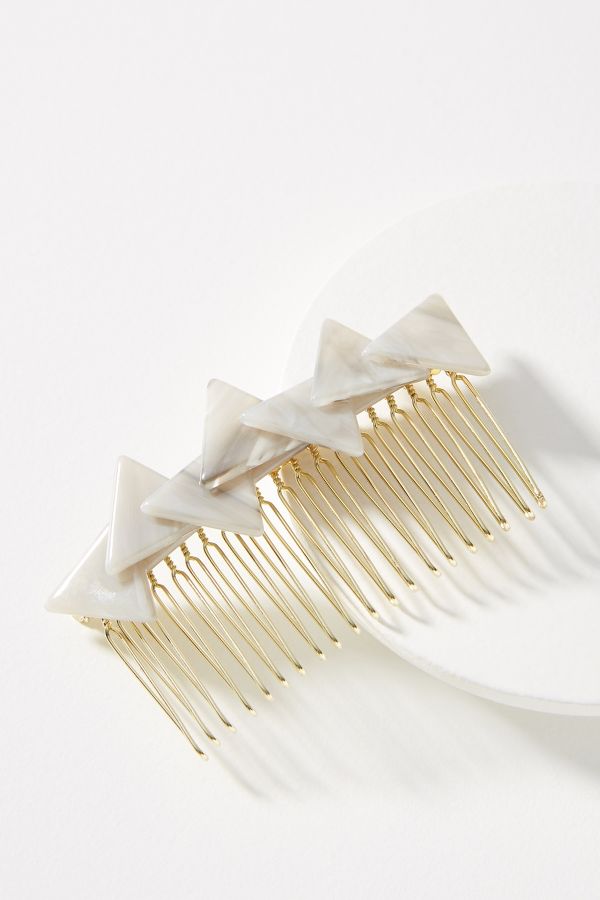 Throughout history, we have found so many ways to adorn ourselves and these hair accessories are just another example of how we paint ourselves into masterpieces. So go get that headband that brightens up your day or that barrette that brings your statement to life!
Which hair accessories will you be using to make a statement this summer? Let us know down below!
Feature Image Source: https://www.pinterest.com/pin/779826491706486048/
Comments, Questions & Rants