We Found The Best Summer Dresses Under $50 Online Right Now
As these long summer days turn into summer nights and continue like so we tend to run out of things to wear. We want something a little more daring, a little sweeter or just something a little lighter. You don't have to break the bank to find a new summer piece and especially a summer dress. There's one for every style and one for every mood. Here are some of the best summer dresses under fifty dollars on the internet right now.
1) Red and Ruffles
This perfect summer dress with a wrap over front look is light enough and versatile enough for summer. The cherry red polka dot dress will go perfectly with a pair of sneakers or mules.
http://www2.hm.com/en_us/productpage.0643196001.html
This classic light pink dress in an airy chiffon is breathable for a summer date night. The romantic 1940's style silhouette is can be styled with a simple necklace and an effortless middle part hair style.
Nothing screams summer more than having a piece in your closet with a gingham print. It's perfect for brunches, movies, long walks and barbecues. It truly it the ultimate summer piece. Style it with some cool black sunglasses and a little straw bag.
4) Crisp Clean White
This midi dress will be your go to for your next vacation and even your next outdoor party. The light linen fabric will go with a cute pair of slide sandals and a red pair of sunglasses.
If you don't want to go with any more romantic ruffles or pastel pinks and yellows, try a fun animal print. Style this fierce leopard print with some edgy black sandals or a pair of white sneakers.
You don't have to choose just one color when you wear this rainbow body con dress. This striped piece can be styled with a pair of just about any color sunglasses, go with yellow, red, black or blue. Finish the look with a pair of black mules or some fun converse.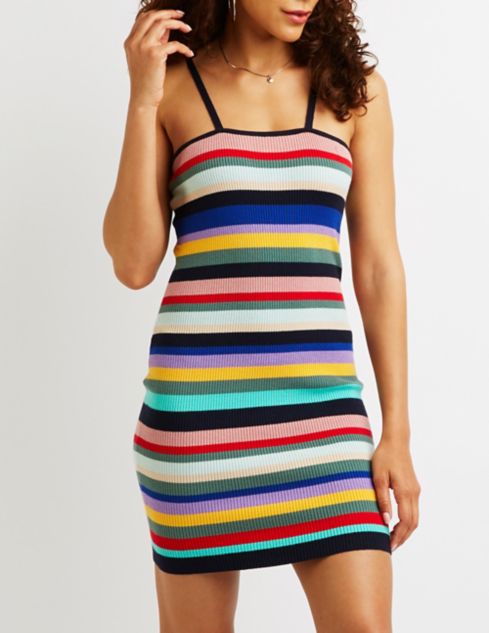 7) That's a Wrap
You can't go wrong with a cute wrap dress. This super cute number with pastel yellow and white stripes is like a breath of fresh air. Style it with a cute straw sun hat and some strappy sandal kitten heel shoes.
8) Blushing in Bloom
Go for the biggest trend of the summer and get an off-shoulder dress. This yellow and blush floral piece is like a sunrise and will brighten up any wardrobe. Style it with a pair of tan gladiator sandals and bold pair of cat eye sunglasses.
9) A Maxi Mini Dress
Do for a maxi dress that you won't drown in. This piece is long enough to feel modest but not too overwhelming for a hot summer day. The rusty red will go perfectly with some gold earrings and a pair of black scrappy sandals.
10) Sweet Seventies
Go for a dress that is a little more nostalgic like this groovy seventies-inspired flower dress. The yellows and oranges would go perfectly with a pair of brown slide sandals and a tiny white handbag. This is one of the best summer dresses if you dig the 70's hippie feel.
You really can't have too many polka dot dresses in your summer wardrobe. This cute little number in a maroon red will go perfectly with a bold pair of hoops and a cute top knot bun.
12) Charming with Cherries
Other than polka dots, cherries are by far the most fun print to sport in the summer. It's sweet, fun with a great color combo and it is positively timeless. Style your cherry dress with a pair of white sneakers and a pair of sleek black sunglasses. This is one of the best summer dresses with a 90's/retro vibe.
Which of these best summer dresses are you going to try? Let us know in the comments below!
*This is a sponsored post. All opinions are my own.
Featured Image Source: weheartit