10 Best Drugstore Shampoo and Conditioner That Will Keep Your Hair On Point
Ah, the world of beauty! It is an overwhelming world to navigate. Most of the time the hair products that do the most cost the most. UGH. How will we ever find affordable and awesome products that our hair will love?! Do not fear! Here I have compiled a list of some of my favorite shampoos and conditioners that my hair has fell in love with! Others I have researched to find they give the most bang for the buck, what little bucks you have to pay! Check it out! 
1. Pacifica Salty Waves Texturizing Shampoo and Conditioner
THIS. DRUGSTORE. SHAMPOO. AND. CONDIITONER. IS. IT. It has everything. It will texturize your hair, give it body and shine and pay your bills for you. You know I am just playing, but this shampoo and conditioner is a forsure a game-changer. There are no sulfates parabens up in this bitch. It also is vegan! I am able to wash my hair every day with this because it is so gentle! It works for any hair type. Wild story: One time I accidentally got some of this shampoo in my mouth (don't ask) and it literally tasted like bananas. You can't get any more gentle than that. Try it out, it's FINALLY available at drug stores and it has made a dream come true of finally having good hair.
2. L'Oreal Paris EverPure Sulfate-Free Moisture Shampoo
This combo joins the fabulous non-sulfate free game. When it comes to hair, sulfates are a no-go. Even though sulfates can be used to remove oil and dead skin cells from our scalps, they also strip the hair of natural oils and make hair dry and brittle. Don't know anyone that is going for the dry and brittle look. This combo will give our hair the moisture it craves while cleaning at the same damn time. 
3. Ogx Nourishing Coconut Milk Shampoo and Conditioner 
The smell of this drugstore shampoo and conditioner combo literally gives me life. Coconuty-deliciousness. It leaves my hair silky-smooth as well! Another no sulfate winner! In addition to soothing coconut milk and oils to nourish the hair, this concoction includes ultra-whipped egg white proteins to strengthen the hair. It's has got it all, so go get it. 

4. Maui Moisture Heal & Hydrate + Shea Butter Shampoo and Conditioner 
Hydration is the name of the game when it comes to Maui Moisture Shampoo and Conditioner. When there is creamy shea butter, rich coconut oil, and pure macadamia oil. These ingredients will quench the thirstest of hair. People from their reviews say their hair has never been this hydrate, tames frizziness, cleanses the scalp well and improves the look and feel of hair. With the price, there is no risk, try it if you want to give your hair some love. 
5. Pantene Gold Series Co-Wash 
There has been some hype around cleansing conditioners so a hot minute now. Many are pretty expensive filled with oils and other ingredients that will keep hair hydrated and clean it at the same time! Pantene has joined the fun of cleansing conditioner and it is getting rave reviews! It is infused with argan oils. It is sulfate and paraben-free! If you want to try something different with your hair care routine, try some of this cleansing conditioner! 
6.
L'Oreal Paris Elvive Total Repair 5 Repairing Shampoo and Conditioner
Many of my friends love this drugstore shampoo and conditioner! It is a total package for combating dry, damaged hair. What makes this combo so fabulous is that it tries to strengthen the hair. It does this by using proteins and ceramides that help to fortify all strands. The hair is made of protein, so it's that is a given. But what's so important about ceramides when it comes to hair? Well kind seeds, ceramides keep the cuticle flat, helping smooth the hair, enhance shine,  and allow hair to fight wear and tear over time. All in all, ceramides are hair's significant other. And this shampoo and conditioner is the wing person. 
7. John Frieda Luxurious Volume Touchably Full Shampoo and Conditioner 
Caffeine is in this product and that helps lift hair to new heights. The main benefit of caffeine for hair is that it can help promote hair growth straight from the root during the first phase of hair growth. It is also known to help increase blood circulation to the scalp. Because of this ingredient, it can help create the volume we want in our hair. For me as a fine-haired person, this sounds like the shampoo and conditioner of dreams. 
8. TRESemmé Keratin Smooth Color Shampoo and Conditioner 
Keratin is the building block of hair.  Marula oil packs a punch when it comes to nutrients. It also has fatty acids, antioxidants, and minerals that help in preventing and possibly preventing UV and environmental damage. It also has antimicrobial, anti-inflammatory properties and it helps keep cells growing in your hair which keeping the scalp healthy and encourages hair growth.  Baller!  This shampoo and conditioner wants your hair to succeed!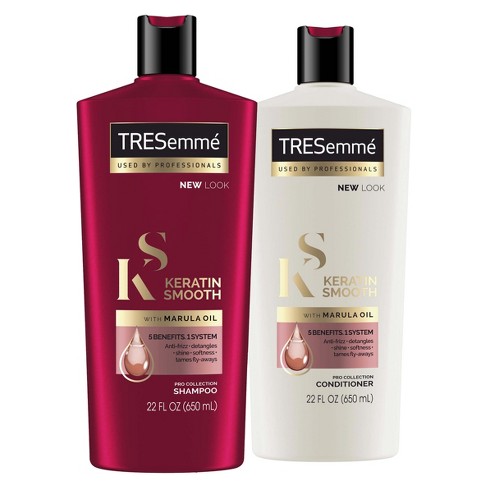 9. Herbal Essences Bio: Renew Sulfate-Free Honey and Vitamin B Shampoo + Conditioner
This shampoo and conditioner are endorsed y'all! The Royal Bonatic Gardens Kew, the world's leading experts on plants, has made this product legit. This means it is formulated with real botanicals. This combo is color safe and PH balanced, it is gentle and infused with honey, jasmine, and vanilla be keep the hair hydrated and smelling fresh. It is also sulfate-free, silicone-free, paraben-free, mineral oil-free and dye-free. So what does it have it in it?! Goodness. That's what it's got.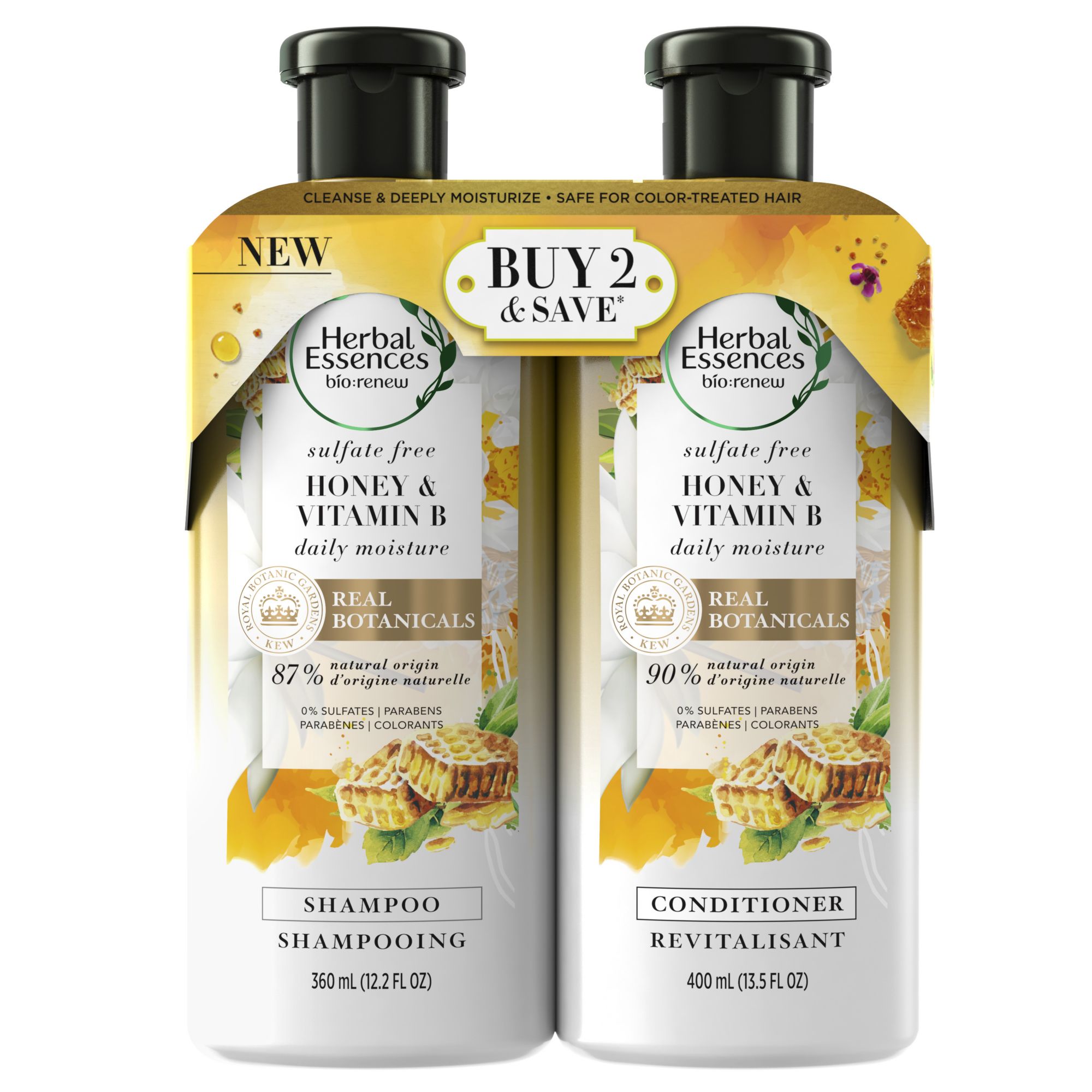 10. The Seaweed Bath Co. Natural Moisturizing Unscented Argan Shampoo and Conditioner 
This daily moisturizing & protecting shampoo and conditioner is great for all hair types, including color-treated hair. What is super interesting about this combo is it contains sustainably-harvested bladderwrack seaweed infuses strands  that is infused with 65+ vitamins and minerals! It also includes a super-player in growth, argan oil, which helps hair maintain healthy moisture and shine. NaPCA amino acids hydrate and protect hair and scalp from environmental toxins.  It is vegan, Gluten Free, Paraben Free, SLS Free, Dye Free, and Cruelty-Free. You really cannot go wrong with this drug store shampoo and condiitoner score. 
There ya have it! Some fantastic drug store shampoos and conditioners that will leave your hair happy and healthy! What is your combo for the shower that has got you to your hair goals?! Let me know! And no worries if you have not found it yet, you have ten kickass options to check out! 
What shampoos will you try? Tell us below!