The 20 Best College Graduation Gifts For Guys They'll Actually Use
Have a guy in your life that's about to become a college grad? It can be hard to come up with college graduation gifts for guys, especially those who never want anything. Look no further for some of the best college graduation gifts for guys.
A tablet is one of the best college graduation gifts for guys for so many reasons. But finding a quality tablet isn't always the easiest thing to do, so we decided to make your search easy. And our pick? The Samsung Galaxy Tablet. This tablet comes with a detachable keyboard, a stand, and the S Pen that has the intelligence to "translate, magnify, navigate and create with a full palette of brush and pen types". Perfect for a graduate for so many reasons – whether they're on the go and watching Netflix, browsing the internet (but don't want to lug around their laptop) or applying to jobs, this tablet can do it all!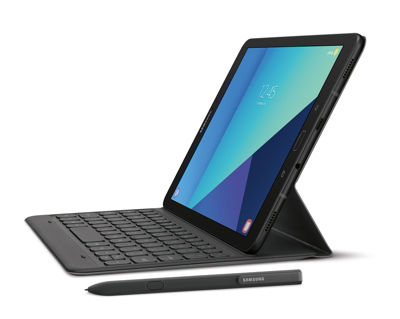 If you are a current student, don't forget to take advantage of the Samsung student discount program: Sign up for a Studentrate account with a valid .edu email address from your current school. You will get access to Samsung exclusive student discount program with up to an additional 20% off regular pricing
Now that they won't be able to run back to their dorm to throw their phone on a charger, this one will come in handy. They'll never have a dead phone again. Unless their phone just sucks.

You never know when he'll get sent on a business trip. Or maybe just go on a quick vacation. Or go home for the weekend.
Does the college grad like to read? What better gift than an Amazon Kindle. He'll never have to worry about lugging around a bunch of books again. It's perfect for traveling.
Cuff Links
Classic college graduation gifts for men should definitely include cuff links. Now that he's entering the professional world, he has to look the part.
Tie Clip
A tie clip that matches his new cuff links? Perfect. You could even gift a set. You can get very creative and personal with this particular gift. It's one of the best college graduation gifts for guys entering the professional world and are required to wear a suit.
Help him keep up his professional aesthetic with a beard trimmer. Nothing screams "put together" more than a well groomed man.
A Watch
No longer is it acceptable (somewhat) to be late for class. You can't be late in the real world, but with this gift, they never will be again!
Sunglasses
This is a great college grad gift for him because he'll always need a pair of sunglasses. Invest in a quality pair, and he'll have them forever!
Make him feel like the ultimate boss with a fancy personalized pen.
Are they moving out immediately post grad? One of the best college graduation gifts for guys that are moving out is an Amazon Fire TV. He'll have access to tons of TV shows, movies and even live television, with no cable bill to worry about!
They'll never have to worry about spills again with this travel mug. Hello morning coffee, goodbye ruined white dress shirt!
This soon to be college grad is into fitness you say? Gift him a Fitbit to keep track of his daily activity and more! Finding college graduation gifts for him can be very difficult, but tune into his interests and you'll find it a whole lot easier.
Give him this guide so he'll never question what to do or say again.

All his hygienic essentials will be in one place, so he will always be able to find them with this one!
Every classy man has a flask? I dunno, maybe. Every man probably wants a flask. Classy or not.
What do you think? Are these the best college graduation gifts for guys? Let us know in the comments below!
*This is a sponsored post. All opinions are my own.
Jaclyn Vlahos
Jackie graduated from Merrimack College in 2016 with a Bachelor of Arts degree in Communications and a minor in Public and Professional Writing. With a wide range of experiences including an internship with Seventeen and Cosmopolitan Magazines along with running her own business, Jackie is well versed in the professional world of media and publishing. You can find her in the corner eating pizza.