15 Of The Best Celebrity Festival Looks To Copy Right Now
Linda Tran
Student at Southern New Hampshire University, studying Marketing with a…
With Coachella just two months away, there must be a ton of you going crazy looking for outfits. Well, have no fear as there are so many celebrity festival looks that you can refer to in order find the perfect outfit. Whether it's for Coachella, Lolla, Boston Calling, or any other festival going on this year – these celebrity festival looks have you covered!
1. Vanessa Hudgens
Vanessa is the QUEEN of Coachella. She has been to Coachella for the past two years but that won't take her crown away. She's always changing up her looks and each one is far different from the previous years. Vanessa loves experimenting with trends and different styles, so if you need inspiration, Vanessa should be your #1 go to.
Get The Look:
  
2. Hailee Steinfield
Hailee has been killing every outfit she's ever been in from red carpets to Coachella. Hailee definitely has a great stylist but she can also pull off these outfits. Hailee goes from girly girl to badass to sophisticated. She's always changing up her looks and she slays each one!

Get The Look:
 
3. Kendall Jenner
Kendall is known for her modeling career but she also has a fashion line with her sister, so she may know a thing or two about fashion. Kendall is completely comfortable with her body and isn't afraid to show some skin. If you're comfortable with your body, some of the outfits that Kendall wears might be perfect for you! She's completely versatile and is always changing up her looks. You never know what she's going to come up with.

Get The Look:
  
4. Rihanna
Rihanna is the QUEEN of looks. With Rihanna, her outfits are so unpredictable and she can wear anything and make it work. She has an eye for fashion and she's not afraid to show off her style. Rihanna is the perfect example of being comfortable with who you are and how you're dressed. She slays every outfit she's ever in and you can never guess what she's going to wear next. Rihanna is a great inspiration for anyone who needs Coachella outfits because she's constantly killing it.

Get The Look:
5. Katy Perry
With Katy, she's not afraid to go all out and look extravagant. She's not afraid to experiment with different colors, different fabrics, different trends, etc. Some may view her fashion sense as "weird" or "odd" but Katy doesn't care and she's just killing it in every outfit. She's being herself while having fun and not caring about what others think. If you like to experiment with colors, then, Katy Perry is the perfect inspiration for you.

Get The Look:
6. Selena Gomez
Selena Gomez is a very cute girl and her style has changed throughout the years. Her Coachella outfits have definitely changed as well. Selena can go from shorts and a crop top to a cute dress. This is definitely one of the best celebrity festival looks to try!

Get The Look:
7. Kylie Jenner
Kylie Jenner is well known for her makeup line and also the fact that she changes her hair color often. Kylie loves to play with colors and she's also super comfortable with her body. She's not afraid to wear risque outfits, so if you're comfortable with your body, Kylie Jenner is a great inspiration.

Get The Look: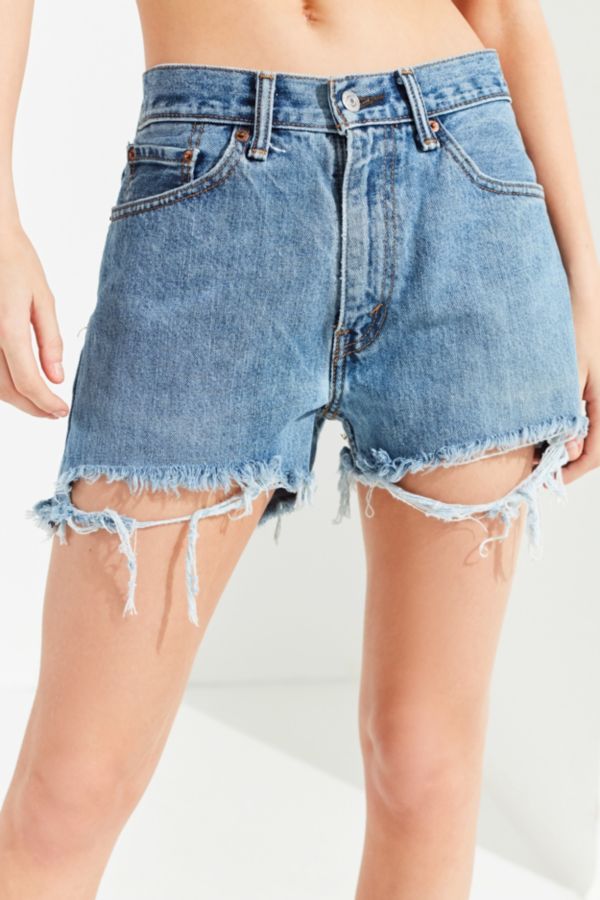 8. Jasmine Tookes
Jasmine has an angel-boho-like outfit going on. In the desert, it's highly encouraged to dress according to the weather. Wearing white is perfect because it's so lightweight and cute. The boho purse is a great way to add a statement piece. When in doubt, wear white!

Get The Look:
9. Alessandra Ambrosio
Alessandra is gorgeous and she can make any outfit look good. If you're not a fashionista or care to impress anyone, it's always good to dress comfortable. Alessandra wears a crop top with high wait shorts and pairs it with calve-high boots. This is a great way to ensure that people won't step on your toes but you also won't suffer from a heatstroke.

Get The Look:
10. Victoria Justice
Victoria has a cute outfit going on here. For anyone who wants to be comfortable but still look cute, an off the shoulder top is the best way to make that statement. Off the shoulder tops are so versatile. You can dress them up in so many different ways that you'll absolutely love this outfit from Victoria. She's a great example of how versatile they are.

Get The Look:
11. Emma Roberts
When in doubt, look like an angel! Sometimes, a plane white dress is the best way to go. It doesn't even have to be a plain white dress either. It can have lace, layers, frills, etc. A white dress may be difficult to wear at Coachella but it's definitely worth all the cute photos you'll be taking!

Get The Look:
12. Sofia Carson
The best way to make a statement at Coachella is by wearing a maxi dress. Sofia keep is beautiful and elegant with a beautiful maxi dress. A maxi dress can save you the trouble of finding a top and bottom to match. Throw on a cute maxi dress like Sofia did and you are good to go for Coachella!

Get The Look: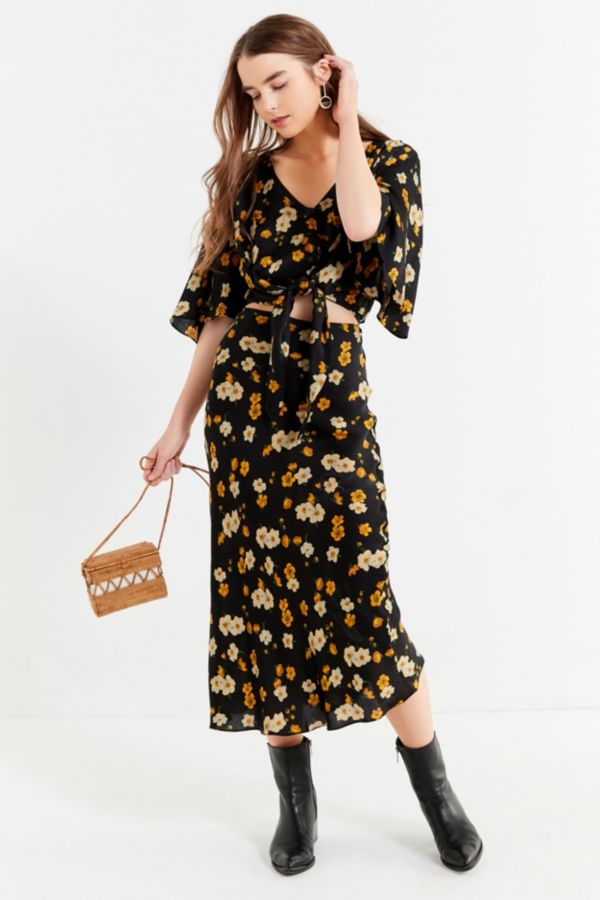 13. Kaia Gerber
In the desert, although it is hot, it can get windy. Wear a cardigan like Kaia does that you can use your cardigan to block out any sand that comes your way. Kaia pairs her cardigan up with a cute tank top underneath. You can have the cardigan be the statement piece or make the tank top the statement piece.

Get The Look: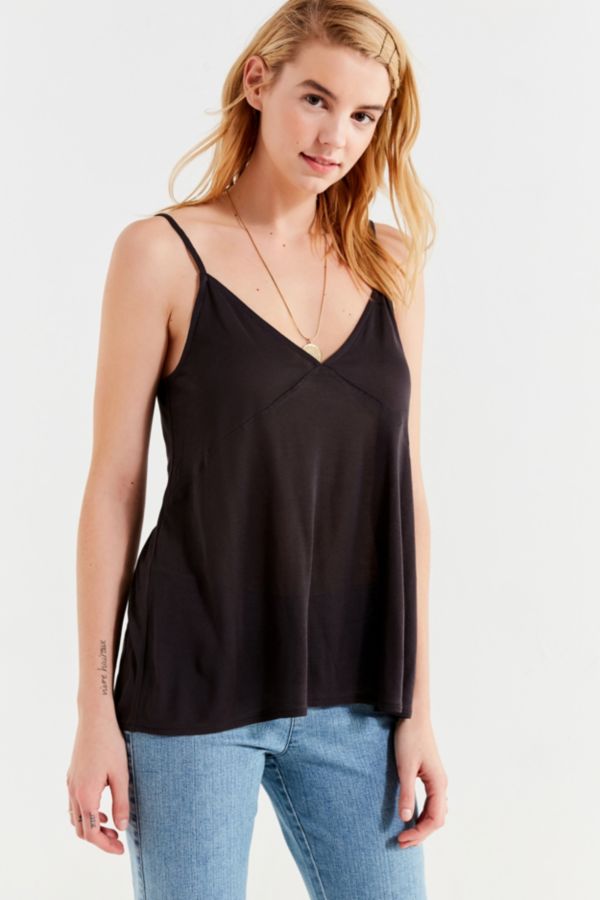 14. Jamie Chung
Jamie looks absolutely bright and happy with her outfit. Coachella is all about having fun so sometimes wearing bright colors can make everything fun. Wear a yellow crop top as a statement piece or wear bright colors to stand out! Jamie does a fabulous job at this! This is definitely one of the simplest celebrity festival looks to put together!

Get The Look:
15. Kat Graham
Kat looks absolutely stylish. For those of you who don't want to show too much skin or you'd rather be comfortable, Kat's outfit is the perfect inspiration for you. Her bell bottoms are a great statement piece along with her cute off the shoulder top. Don't forget the sunglasses to keep the sun away from you.

Get The Look:
Finding inspiration for Coachella outfits doesn't have to be hard. These 15 ladies definitely knew what they were doing, and looked stylish as ever. If you need ideas, check out these celebrity festival looks!
Would you wear these celebrity festival looks? Let us know in the comment section below!
*This is a sponsored post. All opinions are my own.
Featured Image Source: www. Pinterest.com
Linda Tran
Student at Southern New Hampshire University, studying Marketing with a concentration in Social Media.