Best Athletic Shoes To Work Out Comfortably
To be healthy requires more than just eating right. It also requires that you are being athletic, and the right shoes can make a difference.  Three companies who have made their identity in providing shoes that will provide performance with athletics are ReeBok, Nike, and Under Armour. These companies have developed designs and technology that supports all kinds of athletes to get the best performance possible. They understand what you need and have created these shoes to get you moving and support every movement you make. Here are some athletic shoes that you should consider to make your workout as comfortable as possible. 
Reebok
Forever Floatride Energy 
Forever Floatride Energy is an award-winning everyday running shoe. It was engineered to be breathable and supportive. The shoes are lightweight. They were engineered to move with the natural foot motions with responsive cushioning while providing support to the heel stability. Forever Floatride Energy is durable shoes. The shoes cost $100.00 and come in size 8-13 men's. If you are a person who matches there shoes and clothes, the Forever Flostride Energy shoes come in three combinations sets of colors.

Reebox Crossfit Grace
Reebox Crossfit Grace is women training shoes. Not only are these shoes cute to wear, but they are also workout tested shoes. The shoes have a rubber outsole to provide you with some traction and eliminating the chances of failing. These shoes were created to increase flexibility, as well. The Reebox Crossfit Grace shoes come in seven unique color combinations that you are going to want to wear to every workout. The shoes come in size 5-11. The support these shoes provide will give you all the comfort you need in your high-intensity workout. If you are a woman who is into CrossFit, workouts, or lifting, these shoes will be perfect for you.
Nike
Nike Free x Metcon
When you are in training, you want to be able to withstand everything that the trainer throws at you to help you get the best results. The best results require that you have the best equipment, and shoes are the equipment to help your body to go strong with durability and stability, Nike Free X Metcon is shoes that will support you with short runs, boot camps, and strength training. The durability allows you to keep moving no matter the conditions with the lightweight mesh and the rubber wrap to keep you from falling. The flexibility provides comfort with the deep soles that allow you to extend your body in different directions. The foam within the shoes also allows you to have comfort with stability when you are weightlifting. Nike Free x Metcon costs $77.97 and comes in two color selections royal blue and grey. The sizes available are 9-15 in men. These shoes are going to enhance your performance every time you wear them.
Nike Air Zoom Fearless Flyknit 2
If you are a woman who loves to go to the gym, a woman that enjoys training, or taking up a few kickboxing classes a couple of times a week. The Nike Air Zoom Fearless Flyknit 2 shoes are going to be a must-have for you. The shoes provide a snug fit that gives you the most comfortability. The shoes are lightweight and are made up of stretchy material to increase the breathability while you are working out. The shoes have a unique Nike Zoom Cushioning that provides responsiveness to every movement you engage in within your work out. The Nike Air Zoom Fearless Flyknit 2 is $130 and is worth the money. The shoes only come in black and white and available in sizes of 5-12. Check them out for yourself!
Under Armour
UA Project Rock 1
UA Project Rock 1 is athletic training shoes that will keep you moving forward to excellence with every workout. There is no need to worry about your shoes being tied when your wearing these shoes because of the adjusting lacing system. The overall shoes are lightweight to support you in different directions. The breathable fabric helps keep your feet cool. The shoes provide you with support and durability. The heels have special technology to increase stability. The UA Project Rock 1 provides comfortability with the way the shoes cover the ankles with a snug fit. These shoes are available in academy/mod gray. The sizes available are 8-13 and cost $120.00.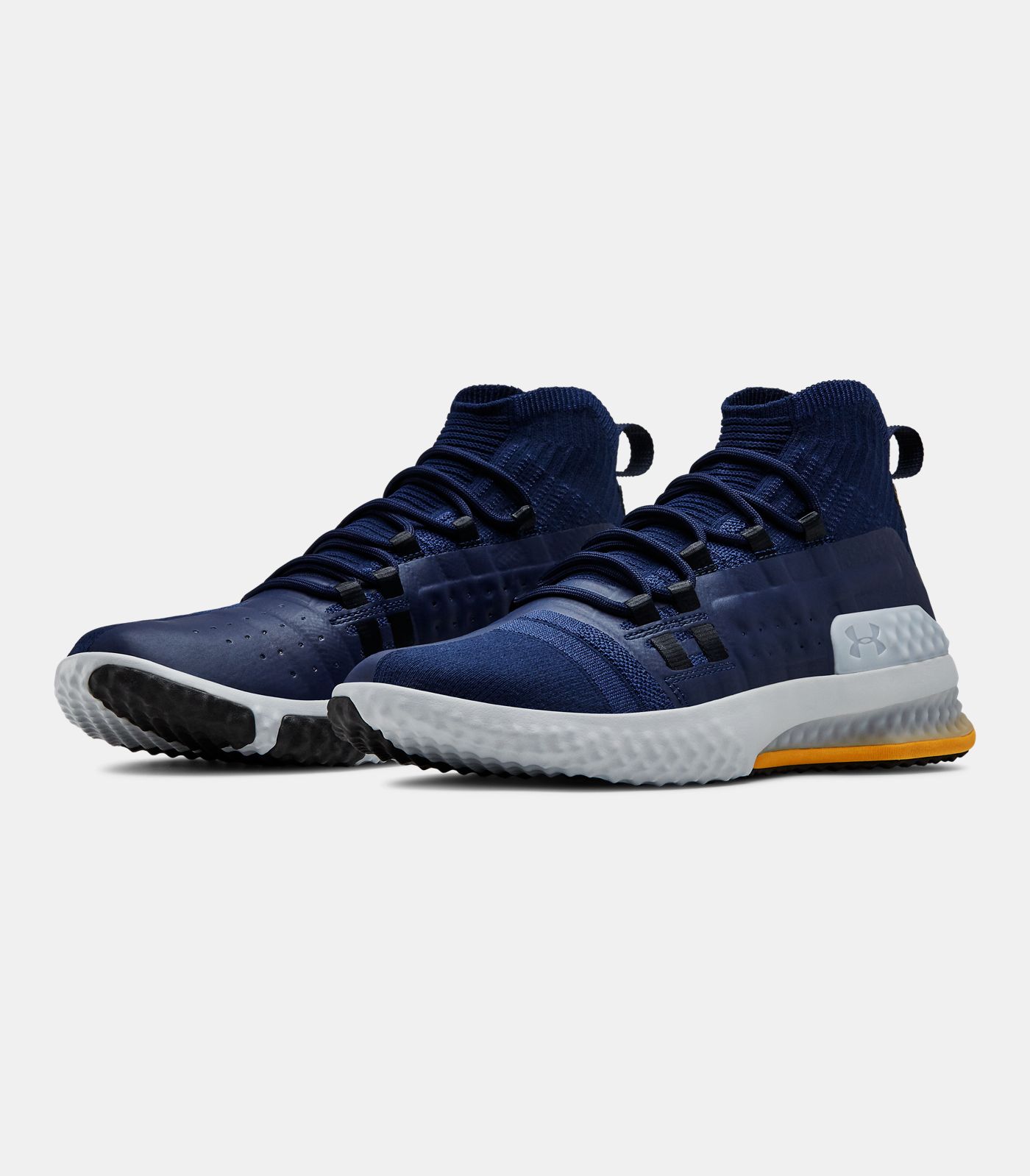 UV HOVR Infinite 
Under Armour is proud of the UA HOVR Infinite. It has been named the winner of the 2019 Runner's World "Recommended" Award. The shoes are digitally connected to provide you information to enhance your workout with sensor technology. Even with the technology placed in the shoes, they are still lightweight. The shoes provide support all around, especially for the heels. These shoes are also highly responsive. All of these characteristics and some other ones that I did not list are a few reasons as to why you need these shoes. We all want to become better in our athletic ability and these shoes will get you into the best athletic ability you can get to. These woman running shoes come in 9 different colors. Whichever color you pick you will be satisfied. The sizing available is 5 to 12. Sizes 5 to 10 are offered in half sizes to help you get the best fit for your workout. The UA HOVR Infinite costs $120.00 and comes highly recommended.
These are just some of the best athletic shoes that are currently out in the market. Among some of them, some of these are award-winning shoes that have the ability to maximize the workout to produce the best results. Reebox, Nike, and Under Armour has mastered the technology to create durable and stable shoes that provide the most comfortability throughout any workout. If you want athletic shoes that can with sand any workout you have to do, these shoes will help get you to where you need to be. Try a pair of these shoes out for yourself and you be the judge! 
What do you look for in athletic shoes? Tells us in the comments…