Summer is coming and if you're planning a wedding, summer is the season to have your special day on the beach. If you want to find an amazing dress, here are 10 beach wedding dresses for a perfect summer wedding!
1. Open Back Lace Dress
Lace is a classic style for wedding dresses, but the open back makes it more unique. This wedding dress is great because the open back will keep you cool without showing too much skin. If you wear this beach wedding dress, you'll look and feel great on your special day!
Copy The Look:
2. Tulle Off-The-Shoulder Gown
Tulle gowns are so elegant and fantastic, making it one of the more dramatic beach wedding dresses. Since the tulle flows, you'll be cool and look so dreamy at the same time, which is a perfect vibe for a beach wedding. This look is super flattering too, so it's one you have to try!
Copy The Look:
3. Crochet Detail Dress
If you want to have a more casual beach wedding, this is the dress for you! The crochet is still chic, but makes for a more relaxed vibe and brings a sense of playfulness to your celebration. This look is incredible and also one of the cheaper options if you don't want to break the bank on your wedding dress.
Copy The Look:
4. Floral Applique Gown
This style of beach wedding dresses is so perfectly feminine and soft. If you wear this, you'll look ethereal and all eyes will be on you! This is a cool and more unique wedding dress, so it's a look to try if you want to break out of the usual, expected wedding dress styles!
Copy The Look:
5. Sheer Sleeves Dress
Long sleeves don't usually go with a beach wedding, but the sheer sleeves will give you that look without you getting overheated. This style plays on traditional wedding fashion, but the sheerness of the sleeves adds some originality. This style is so beautiful and you'll look incredible if you wear this dress at your wedding!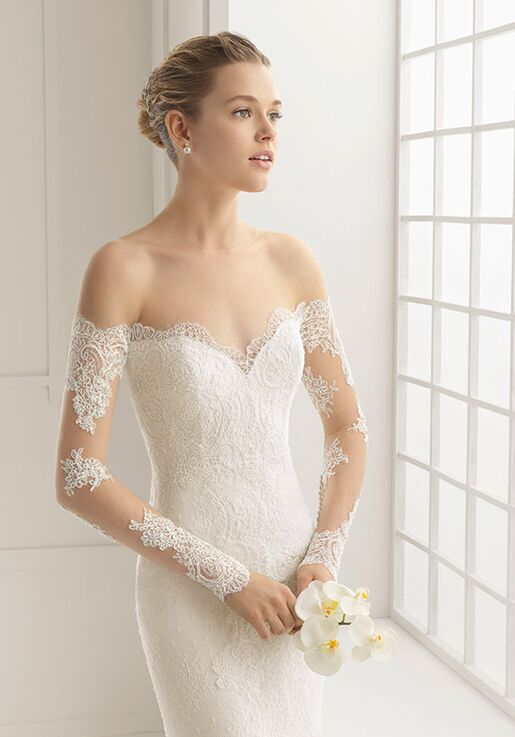 Copy The Look:
6. Pastel Pink Dress
If you want to make a statement and be different, wearing a pink dress will make your wedding so unique! The pastel pink is so light that i will complement all the scenery of the beach at your wedding. Also, guests will always remember your wedding because you didn't wear a white dress!

Copy The Look:
7. Embroidered Strapless Dress
This is one of the sexier styles of beach wedding dresses, so if you want to show off your figure, this is the dress for you! Because the dress is strapless, it will accentuate your collar bones and face, and you'll look great in every photo!
Copy The Look:
8. Bridal Separates
Big wedding dresses can definitely be a hassle, and if you prefer to be casual and comfortable, you need to try wearing bridal separates! This is such a fun look and will show your guests that you're laid back and love a good time. Even better, this look is so easy to get in and out of, which will make you feel more mobile to dance your heart away!
Copy The Look:
9. Short Wedding Dress
This is one of the most practical beach wedding dresses that you can wear. The length will keep your dress from getting dirty at the beach and will allow you to move freely on the sand. Also, this style is great for petite brides who want to look taller walking down the aisle.
Copy The Look:
10. Sequin Wedding Dress
Your wedding is the day that you get to be the star, so getting a dress that makes you literally shine will make you feel amazing. Because the waves at the beach shimmer in the sun, your dress will match the beautiful beach view! This style is also fairly original, so no one else will be wearing your dress!
Copy The Look:
Which one of these beach wedding dresses would you love to wear? Let us know in the comments below!
Featured Image Source: http://mycancunmakeup.com/portfolio/beach-bride-make-up/
Comments, Questions & Rants