10 Affordable Overalls For Every Occasion
If overalls are not a staple of your wardrobe, they should be. Besides being effortlessly comfortable, overalls are easy to dress up or dress down if the occasion calls for it. Their resurgence in recent years affords consumers a wide availability of colors and styles to choose from, so even if you don't think you can pull them off, there may be a different style that you haven't experienced that may be the one for you. Finding the perfect overall shouldn't break the bank, so whether you're shopping online or shopping in thrift stores, here are 10 styles to try out. 
1. The Classic
When you think of overalls, this is probably what you imagine. Maybe you saw Meryl Streep in Mamma Mia and you thought "my, my, how can I resist you?" Like Meryl, or ABBA, this wardrobe staple can go anywhere and can be paired with anything. 
Copy this look:
2. The Classic Short
As summer winds down, you may not be ready to leave summer behind. I personally like to pair my short overalls with long-sleeved shirts or crew neck sweatshirts as the days get colder, but blue denim overall shorts are perfect for summer and can weather the transition into fall. 
Copy this look:
3. The Clown
How else are you supposed to let your ex know you're willing to take them back? Bold color-block or patterned overalls invokes the 70s and 80s with minimal effort–pair it with a white shirt and there is no need to accessorize. 
Copy this look: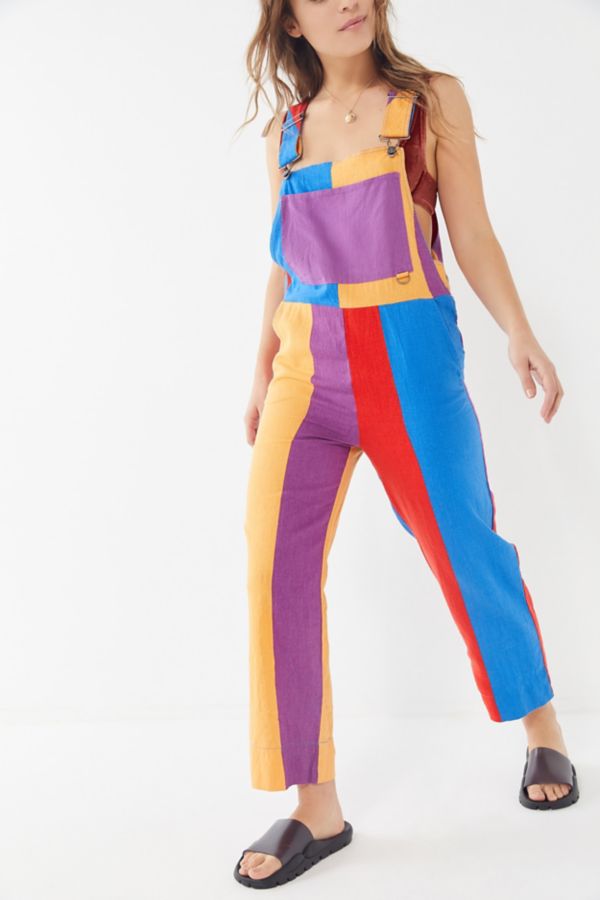 4. The LBO (Little Black Overall)
Just as your mother told you that you need one little black dress in your closet, I'm telling you that you need a pair of black overalls that hug your behind. As easy to pair with as a pair of black jeans, black overalls add a look of sleekness to an outfit of comfort. 
Copy this look:
5. Bellbottoms
"Thank you very much, ladies and gentlemen, right now I got to tell you about the fabulous, most groovy bellbottoms": wearing wide legged trousers may have been a style of the past, but if we know anything as the 20s approach once more, it is that the past will always haunt the specter of the future. Wide-legged pants retain their popularity because of their almost universally flattering style. 
Copy this look: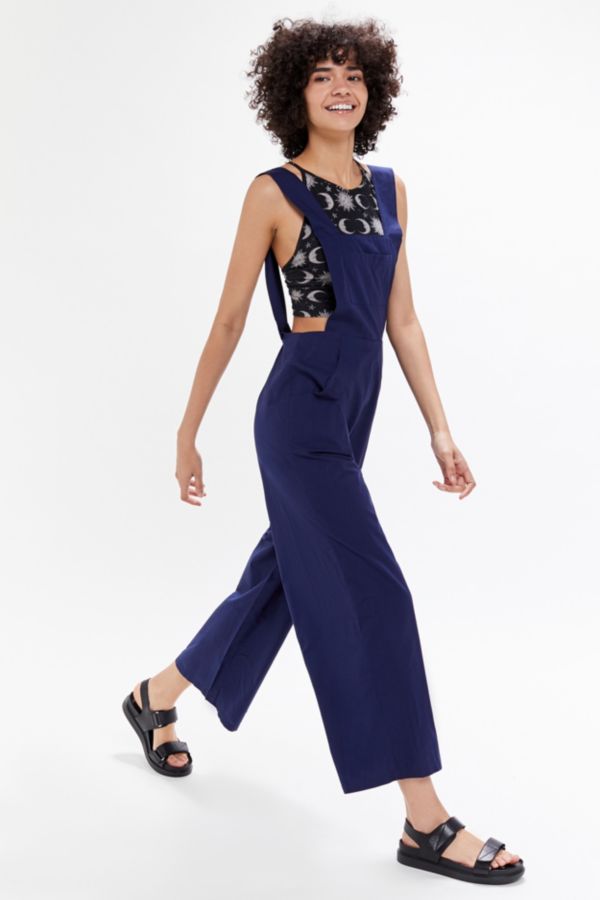 6. The Minidress
Want to wear overalls without having to remove all your clothes to go to the bathroom? Want to still look and feel cute after reading that sentence? A denim overall dress is a great way to layer as summer turns to fall; pair it with some thick tights, wear a t-shirt underneath, and a thicker jacket to ward off the late September chill. 
Copy this look:
7. The Dark Wash
Darker colors are almost universally slimming and flattering, and dark wash presents a nice medium between light wash (which may seem more spring or summer colored) and black. Dark wash overalls, like dark wash jeans, are easily dressed up. 
Copy this look: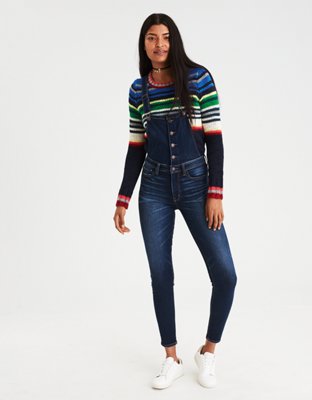 8. The Bright White
I've been suggesting pairing white shirts with all color and manner of overalls, but only the truly brave will wear white overalls, and especially after Labor Day. 
Copy this look:
9. The Bold Type
Let the overall speak for itself, and for you. Instead of accessorizing with a pop of color, pop with color. 
Copy this look:
10. The Jumpsuit/Romper
If you aren't emotionally or physically ready to wear overalls, jumpsuits and rompers are a cute and comfortable alternative.
Copy this look:
Which of these overalls will you be wearing come fall? Comment below and let us know!