Adorable Loungewear Pieces To Make Remote Learning And Working More Bearable
Loungewear is something that has been essential in 2020 due to an increase in remote learning as well as working from home due to the pandemic. Feeling comfortable and cute helps me to keep motivated, if the same can be said for you, check out these loungewear pieces!
1. UGG Fluff Yeah Slippers
Since most of us are working and doing school from home due to the pandemic, we are not wearing actual shoes on a regular basis. Now, socks are alright at keeping your feet warm, but they are just not as cozy as a good pair of fluffy slippers! I have had my eye on these Fluff Yeah slippers from UGG since quarantine first began for me back in early March, and y'all I still think about them all of the time. These slippers look so cute and cozy, but they are a bit of an investment, similar to other products from this brand. This specific style of UGG slipper retails for about $100, but the quality and comfort level seems to be so worth the money! A lot of influencers and celebrities have been spotted rocking these, which is how I first heard of them, and upon further research, I can see why they are so widely purchased. The slippers are made mostly of sheepskin, which is incredibly soft, have a super trendy thick strap with the brand name embroidered on it, and have rubber soles. There are several colors to choose from, so your favorite is sure to be an option. I love the variety of bright colors as well as muted tones! The ones pictured below are in the charcoal color, but they also sell red, mint, hot pink, black, pale pink, and so many others. You can find these on the UGG website as well as many other retailers, like Dillard's. 
Shop these slippers:
2. Nasty Gal Waffle Top And Legging Set
Matching loungewear sets are all the rage right now, especially with all of us being at home for the majority of the week. Nasty Gal has a ton of these sorts of sets for such a great price, in all sorts of different styles and colors. I like this one because of the waffle texture which is so cozy, the muted pink shade it comes in, and the off the shoulder style top. If you have to be on Zoom calls frequently for work, I think that the off the shoulder style really elevates this set and makes it look like you tried a little harder than you really did, plus you can layer some gold necklaces and throw on some hoops for a super trendy and put-together look! This pretty pink set also comes with a pair of loose leggings that look absolutely amazing. The flared leg of these pants creates a trendy silhouette, while the elastic waistband keeps the fit relaxed. If pink is not your cup of tea, this particular lounge set also comes in a crisp, clean white color as well. This retails for just $36.00 at the moment and is such a staple pair of loungewear pieces that will make your work or school day much more bearable!
Shop this set:
3. FILA Lucinda Wide Leg Pant
If matching sets are not what you are after, I recommend a comfy pair of pants, especially if you have to be very polished on the top for Zoom meetings or presentations. The Lucinda Wide Leg Pant from the much-loved brand FILA is a great pair to grab for yourself because of the breathable material, adjustable waistband, muted color pallet, and loose fit. These pants are made of 100% polyester with mesh detailing, making them incredibly comfortable and breathable, and even has pockets! The elastic waistband with a drawstring allows you to customize the fit around the waist to suit you. You could tie them to fit your waist snugly and accentuate your figure, or you can tie them loosely for a more relaxed fit. These stylish pants retail for $65.oo from the FILA website, which I know may sound excessive for a pair of lounge pants, however, these are such great quality so they are sure to last you for years to come. 
Shop these pants:
4. Free People Seamless Lounge Bra
Bras are something that has been very optional in quarantine, which has been lovely, but if you are looking for a bit of support without the pain of pesky underwire check out this seamless lounge bra from Free People. Lounge bras have been my favorite thing to wear in quarantine because of how comfortable and light they are. I love the support they give without digging into my skin and this one from Free People even looks great as a top on its own with a pair of high-waisted leggings or sweatpants for a day spent lounging around the house. It retails for $30.00 and comes in twenty-four different shades and patterns! The shade the model is wearing is called dove grey, which is a great neutral shade, but if you prefer bright colors they have options for you as well. 
Shop this bra: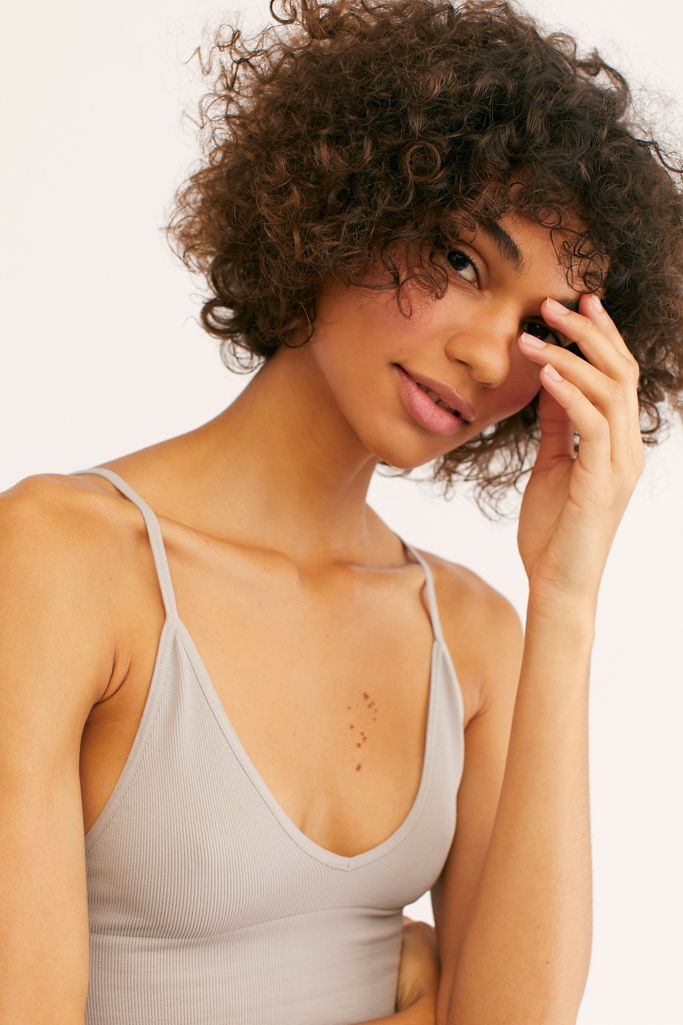 5. Front Runner Lounge Shorts Beginning Boutique
If you are like me and get warm very easily, sweatpants may not be the way to go. Instead, I would recommend lounge shorts like these from Beginning Boutique. These shorts are just $29.99 and are both super stylish and wearable. These grey lounge shorts are mini length without being too short, have an elastic waistband so you can fit them to your uniquely beautiful waistline, and these are made from 100% cotton so you know they will be super soft. I love that this color goes with literally everything and these are just such a good basic to have in your loungewear collection. Definitely will be keeping my eye on these!
Shop these shorts:
6. Project Social T Moonshine Oversized Graphic T-shirt 
Urban Outfitters has become known for the collection of graphic t-shirts that are curated for their customers and for good reason. There are so many sick options that you can only get at Urban Outfitters, like this Project Social T with this cool moonshine graphic. This one is nice and oversized which is great for working and learning remotely, plus it looks super cool and on-trend. This muted pink shade is so in right now too! This graphic tee would be perfectly paired with those grey lounge shorts from Beginning Boutique and of course incredibly comfortable. Styling it with jewelry, like the layered gold necklaces in the photo, and a pair of slippers like the Fluff Yeah slippers from UGG would just top off the look! 
Shop this graphic tee: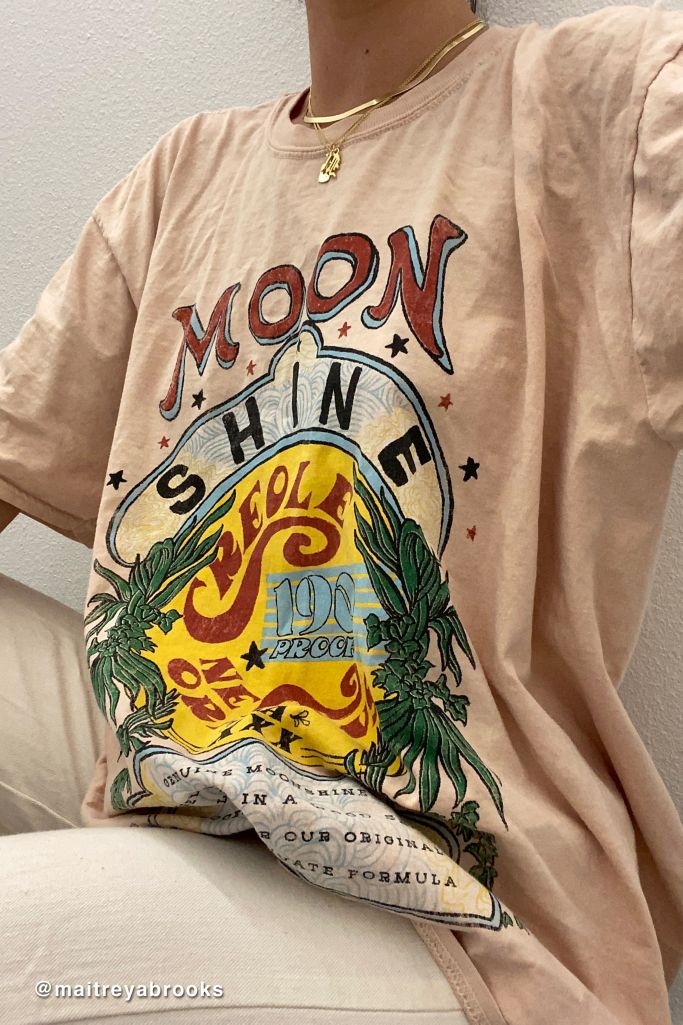 These loungewear pieces are all so cute and comfortable! What are your favorites? Let us know in the comments below!
Featured Image Source: https://weheartit.com/entry/343017930?context_page=4&context_query=lounge+wear&context_type=search