15 Adorable Christmas Decorations Santa Himself Would Love
Is your house ready to deck the halls? If you are in need of some inspirations, check out these Christmas decorations that Santa himself would approve of! 
1. Christmas Tree Lot Decorative Sign
Wall decor is such an easy way to take your home and turn it into a winter wonderland. This Christmas tree lot sign is one that will do just that! It has three signs pointing in various directions and advertising for winter staples: hot cocoa, an ice skating pond, and of course a tree lot to purchase your very own Christmas tree. This would look so cute in your kitchen or living space, plus it is only $10.00 on Target's website and you just cannot beat that deal! 
Shop this product: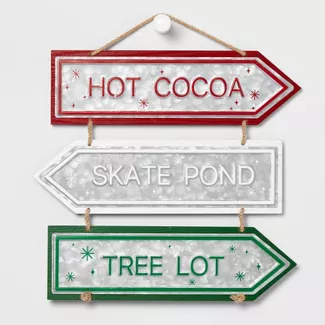 2. Rudolph and Clarice Outdoor Decor
Outdoor decor is just as important as indoor, granted you have to have the space for it. If you have yard space, this set of light-up outdoor decor featuring Santa's trusty reindeer, Rudolph and his sweetheart, Clarice are such cute options. These are a bit on the pricey side, retailing at $116.99 on Target's website at the moment, however, these will last you for years to come as well as bring joy to not only your own family but your neighbors too! 
Shop this product: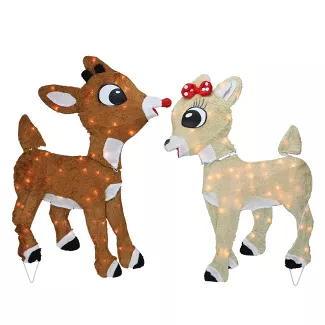 3. North Pole Post Box
This next one is such a cute idea if you have a little one, but can also just be used as home decor as well for those of us that are not parents yet. Writing letters to Santa was always so fun to do as a kid and is definitely something I want to pass onto my own children one day. This festive North Pole Post Box can be a place for your kiddos to mail off their letters to Santa, or just add a bit more merriment to your home! You can find this on Amazon for $44.00 and free shipping for Prime members if you are interested. 
Shop this product:
4. North Pole Vintage Radio
Also from Amazon, is this adorable North Pole Radio that has a vintage-inspired design and plays nine Christmas songs! You can choose between three radio stations: Elf News Network, Santa's Weather Station, and Christmas Carols. It is battery operated and of course, has adjustable volume controls. This amazing interactive decor piece retails for $43.82 and is sure to provide hours upon hours of entertainment and joy!
Shop this product:
5. Red Poinsetta and Ornaments Wreath
Another outdoor decor piece is this classic wreath that is decorated with red poinsettias, pinecones, and shiny red ornaments throughout. This will make your home look so welcoming and sprinkle a little Christmas joy every time you enter or exit your home! You can purchase one for your front door on Target's website for $40.00 and invest in a great quality, fabulous holiday wreath. 
Shop this product:

6. Pre-Lit, Snow-Covered Christmas Tree
As Christmas decorations go, a Christmas tree is pretty essential. If you are on the lookout for one, this pre-lit, snow-covered artificial Christmas from Walmart is a great choice. Standing at 6 feet tall and snow flocked, this tree looks as if it came straight from the North Pole! The warm LED lights cast such a nice glow throughout whatever room you choose to display it in and the fact that it is pre-lit and comes with a stand make setting it up super quick and easy. You can find this on Walmart's website and in-store closer to the holiday season for $119.99. 
Shop this product:
7. Burgundy and Gold Shatterproof Ornament Set
Of course, we need to decorate our lovely Christmas trees, and what better way than with an ornament set! Ornament sets help to save you money as well as time because you do not have to worry about picking out a bunch of different ornaments that all match, that work has already been done for you. Specifically, to go with the tree that was just mentioned, this set of seventy-two burgundy and gold ornaments would look so stunning.  These ornaments are shatterproof, there are six different designs included within the set, and there is even a storage case included. Plus, it is sold for such a great price, just $24.99 from Walmart!
Shop this product:
8. Lakeside Christmas Accent Pillows
Moving onto some cozy Christmas decorations to add to your living space, these Lakeside Christmas Accent Pillows from Target are the perfect addition to any couch or loveseat. Just $49.98 for a set of three, these pillows feature graphics of ornaments, a Christmas tree truck, and little cardinals. They add such a lovely, rustic touch to a room and are such an easy way to decorate for the holiday season!
Shop this product: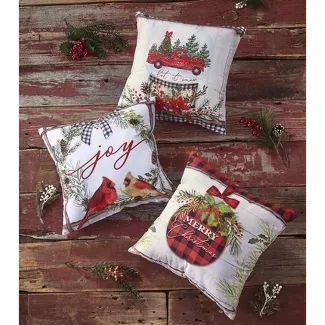 9. Cable Knit Plush Sherpa Throw Blanket
Going along with the festive throw pillows is this red cable knit throw blanket with a plush sherpa lining. This blanket is so soft and is sure to keep you warm on a chilly winter night! It is 50″ by 60″, so it large enough to cover up entirely with this blanket and its classic design would look so lovely draped across the back of a couch with those rustic, farmhouse throw pillows that are also from Target. This cozy blanket is $54.99 on the Target website and would make such a lovely gift for a loved one as well!
Shop this product: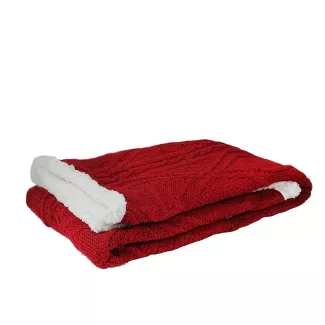 10. Vintage Christmas Banner
One of my go-to decorations for any holiday is a banner to hang up either across the fireplace or just on any blank wall. Keeping with the vintage Christmas theme we have going on is this "Merry Christmas" banner from Amazon. It is only $8.99, so such an affordable Christmas decoration, and instantly makes any space look more merry and bright! It takes less than five minutes to hang up and keeps with the classic red, green, and white color pallet that we all know and love. 
Shop this product:
11. Crochet Cable Knit Stockings
Also to hang upon the fireplace, or wherever you hang your stockings, are these lovely crochet cable knit stockings in green, red, and white from Amazon. This set is only $20.99 for all three gorgeous stockings and are available in two sizes: large and small. The small stockings are fifteen inches and the large stockings are eighteen inches in length. There are also other colors available as well as sets of a different number of stockings in case you have a few more family members or are not feeling these colors! They have a loop for easy hanging and are sure to last you for years to come. 
Shop this product:
12. Quaint Christmas Village 
Growing up, I always loved just sitting and looking at my grandma's Christmas village. The glow from the little town she had created was so comforting and I used to imagine what it would be like to live in a place like that. If you want to start your own Christmas village, this Secret Santa Gift Shoppe is such a cute building to kick start that! You can find this one at Walmart for $31.89 as well as so many others! It is made from porcelain and would look absolutely stunning seated on a tabletop in your home.  
Shop this product:
13. Christmas Plaid Table Runner
If you are looking to spice up your dining table for Christmas dinner or make it look extra festive for when Santa comes to eat the cookies you left out for him, this red and green plaid table runner is a wonderful option to consider. It is made from one hundred percent cotton and is machine washable, so if you spill a little something on it you do not have to worry! It is just $10.99 at Walmart and instantly elevates your dining table!
Shop this product:
14. Reindeer Tea Light Holders
Another option for dining table decor is these reindeer tea light holders from Amazon. These paired with a festive, holiday table runner or table cloth bring another element of joy to the holiday season, especially during family dinners. There are six tea light holders in this set and are only $20.99! You can use them all on your table on spread them around the entire house. Either way, these will look so adorable and make you so happy every time you see them! 
Shop this product:
15. Festive Pinecone Centerpiece
Lastly, is another centerpiece option for your dining room table. This one is a little more mature and classic looking, while still being very festive for the holiday season. It is also from Amazon, like the reindeer tea light holders, includes three tea light holders, and measures thirty inches in length so it will definitely make a statement on your table. It is sold for approximately $30 and produced by a USA owned company, The National Tree Company. They have been in business for over sixty years, so you can count on this product being high quality and absolutely stunning!
Shop this product:
These Christmas decorations are all so cute, Santa would definitely approve! Which are your favorite Christmas decorations? Let us know in the comments below!
Featured Image Source:https://weheartit.com/entry/348940604?context_query=christmas+decorations&context_type=search