8 Of The Best Electric Toothbrushes To Keep Your Teeth Clean
Dental hygiene is so important, especially during the holiday season when we are all eating sugary and delicious foods. If you are looking for a way to improve yours, check out these electronic toothbrushes that will help to keep your teeth clean!
1. Quip Metal Electric Toothbrush
This is one of the most talked-about electronic toothbrushes on the market at the moment! This metal electronic toothbrush from the brand Quip can be found at Target stores and online as well and is fabulous for travel due to the sleek design. This cordless electric toothbrush has a built-in timer that runs for the suggested amount of time to brush and the sonic vibrations are sensitive enough to not irritate the mouth, but also effective enough to keep the mouth super clean! This specific brand is a subscription service, meaning that new brush heads and replacement batteries are delivered straight to your door every single month. This light and compact toothbrush comes with a travel case that also doubles as a stand that sticks to the bathroom mirror. The stand is able to keep your bathroom counter clear from clutter and keeps it clean and in perfect condition during travel. There are four color options for this product: slate gray, gold, silver, and copper. It retails for $40.00, which is quite reasonable compared to some other electric toothbrushes on the market, plus you can tack on a two-year insurance plan for just $5.00 more! 
Shop this product: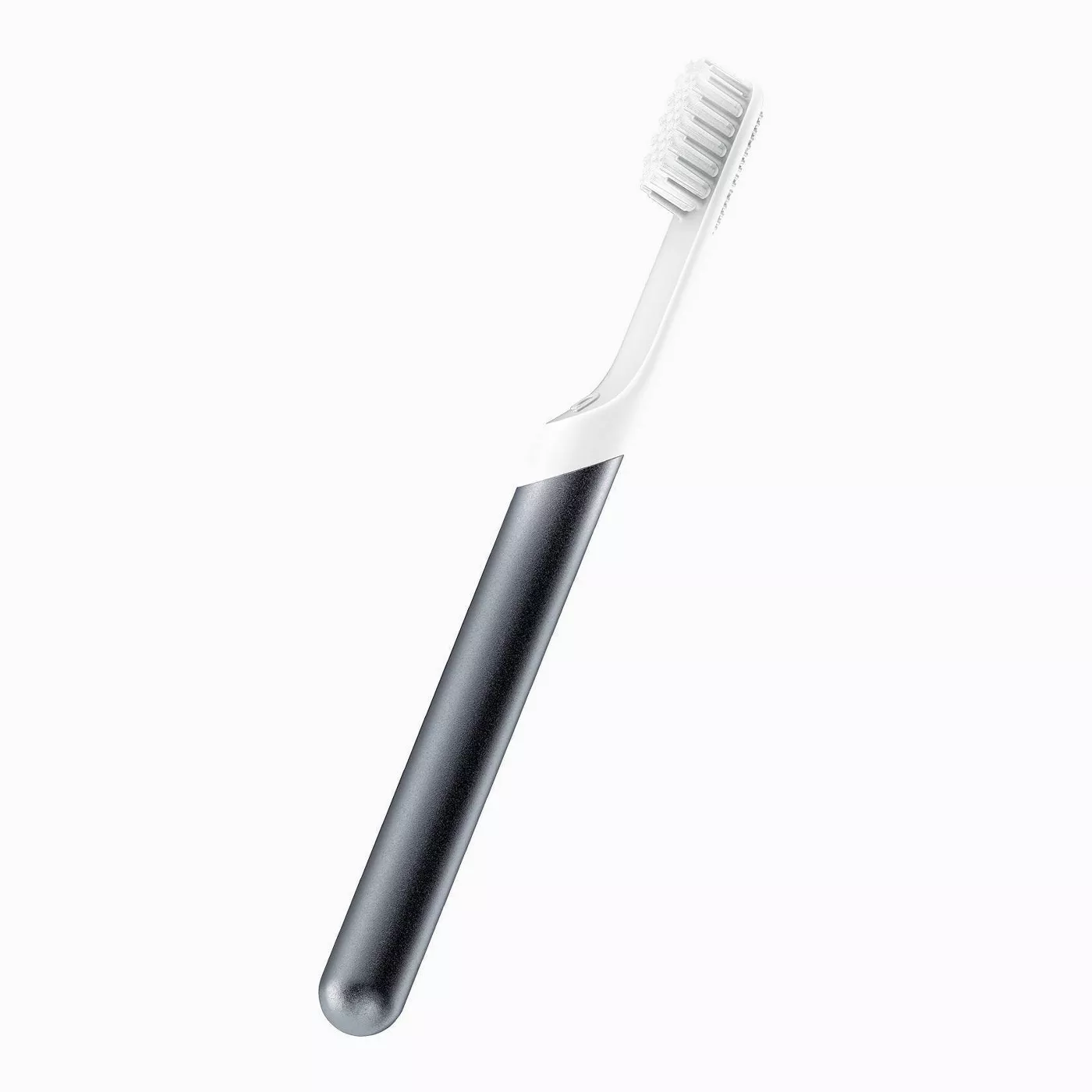 2. Philips Sonicare Protectiveclean 5100 Gum Health Electric Toothbrush
If you are like me and tend to have more sensitive gums, this electric toothbrush is perfect for you. The Philips Sonicare 5100 Gum Health Electric Toothbrush from the ProtectiveClean range of Sonicare toothbrushes is specifically designed to improve gum health. It has a rechargeable battery, so you do not have to change out the batteries every month like a lot of other electronic toothbrushes, it is marketed as being able to aid with bad breath, gum care as the name of the product suggests, teeth whitening, cavity prevention, and fight gingivitis. This toothbrush comes with a singular brush head, charging base, instruction booklet, and of course a rechargeable battery. There are three colors to choose from light blue, black, and hot pink. There are also three different modes: clean, white, and gum that you can switch between depending upon what you are trying to improve that particular day. There is a two-week battery life per singular charge and it retails for $79.99. 
Shop this product: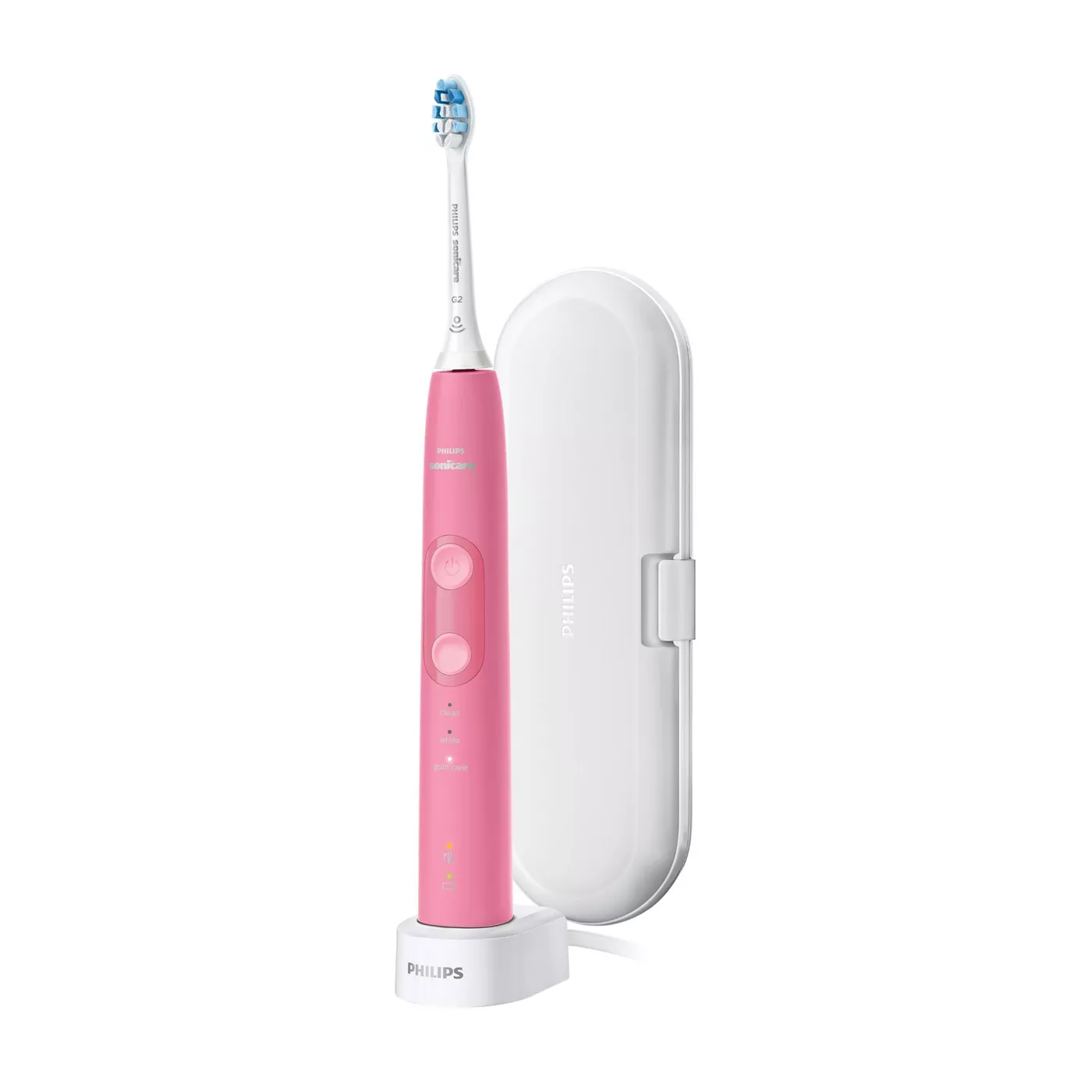 3. Hum by Colgate Smart Battery Electric Toothbrush
This next one is honestly the most hi-tech electric toothbrush that I have ever seen! The Hum by Colgate is a smart battery toothbrush that connects to your smartphone via Bluetooth and the Hum app. It is battery operated, comes with a carrying case, and tracks the amount of time spent brushing, the effectiveness of your brushing, and how often you brush through the app. You can also earn rewards through the app for consistent and full coverage brushing through activities and challenges. I think this concept is so unique and makes it the perfect product for those who get bored brushing and want to make sure that they are cleaning the entire mouth every time they brush their teeth. It retails for $49.97 and comes in purple, teal, and blue. 
Shop this product:
4. Arm & Hammer Spinbrush Pro Whitening Electric Toothbrush
I actually have and use this Arm & Hammer Spinbrush Pro Whitening toothbrush every day and absolutely love it! The soft brush head is great for those with sensitive gums and teeth, plus the dual-action brush head works to both clean and whiten simultaneously. It is the most affordable yet effective electric toothbrush that I have come across, retailing at only $7.88 at your local Walmart. It advertises that it is able to whiten teeth after just one week and I can attest to that! I use the soft brush head, but there is also a medium brush head available if that works better for you. It is battery operated and brush heads can be changed out very easily every few months as suggested by the ADA.
Shop this product:
5. Philips Sonicare ProtectiveClean 4100 Plaque Control Electric Toothbrush
If your mouth produces a lot of plaque, I recommend the 4100 Plaque Control Electric Toothbrush from the ProtectiveClean range from Philips Sonicare. It retails for $49.95 at Walmart stores as well as on their website, comes in either black or pink, and is designed to remove seven times the amount of plaque than a normal toothbrush. There is a timer programmed to run for two minutes every time you brush to ensure that you are brushing for the recommended amount of time daily. It has a two-week battery life per every singular charge and there is even a replacement reminder programmed into the toothbrush to ensure that you always change your brush head when it needs to be. This electric toothbrush will work to make your mouth cleaning than ever!
Shop this product:
6. Oral B Vitality FlossAction Electric Toothbrush
If your teeth are very close together like mine and you have trouble flossing, this toothbrush from Oral B is one to look into. It retails for $29.97 at Walmart stores and on the store website, or you can add either a two or three year Walmart protection plan for a few extra dollars. This toothbrush is rechargeable which is so nice and also comes with two brush heads so you do not have to buy a new one for the first six months of using this product! The specialized bristles on this toothbrush are designed to fit and clean between teeth easier than a manual toothbrush and flossing by hand. Similar to others, it has a two-minute timer programmed into it and is compatible with a wide variety of brush head replacements in case your dental hygiene needs change. 
Shop this product:
7. Gleem Electric Toothbrush
I had not heard of this particular electronic toothbrush before researching for this piece, but the reviews and design speak for themselves. This toothbrush is so sleek in the black color, has a soft brush head to clean without irritating sensitive mouths, has a two-minute timer embedded within, it comes with a pre-installed battery, and the design prevents it from rolling off of the counter or sink. It retails for just $19.99 and is great if you are looking for a simple, no-nonsense kind of electric toothbrush. 
Shop this product:
8. Waterpik CC-01 Complete Care 9.0 Sonic Electric Toothbrush And Water Flosser
Now, if you are really looking to invest in your smile, check out this water flosser and electric toothbrush set from Waterpik. This is available from Amazon and is a bit more on the expensive side, retailing at $99.99. However, the value you get for your money is well worth it. This set is said to remove up to 99% of plaque build-up in the mouth, comes complete with a charging station, five flosser tips, two brush heads, a travel case for the toothbrush, and a two-year warranty. There are a few colors to choose from including: white and black depending on which specific set you choose to purchase. The Waterpik water tank holds twenty-two ounces of water and combined with the electric toothbrush will leave your mouth sparkling!
Shop this product:
All of these electronic toothbrushes are sure to keep your mouth and teeth impeccably clean! What is your favorite electronic toothbrush? Let us know in the comments!
Featured Image Source: https://weheartit.com/entry/327448626